A Photo Timeline of Mercy Ramsey
November 22, 1911 to June 12, 1940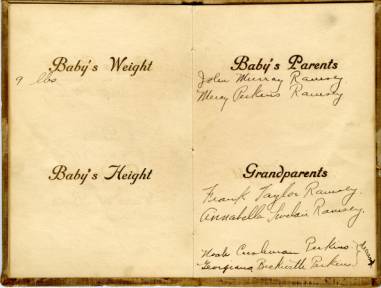 1911
Mercy's baby book. She was born on November 22, 1911 in a little bungalow at 404 West 38th Street in Austin, Texas.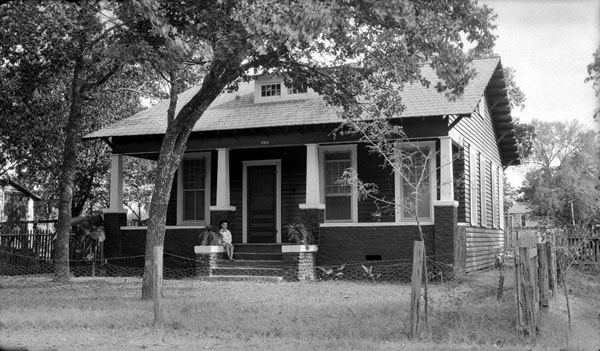 An undated photo of the house where Mercy was born.

A photocopy of Mercy's birth certificate
1912
Mother on left; Mother, Murray and Grandma on right. Few of our photos are dated so the years listed are based on the probable ages of the children.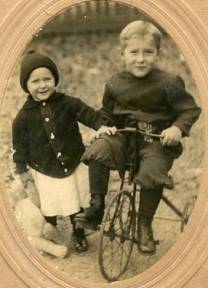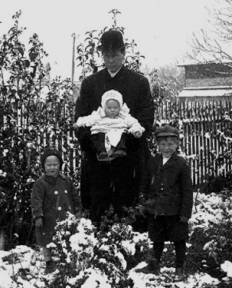 1913
Mother and Murray; Mother, Grandpa holding Jessie Mary, Murray. Jessie Mary was born on September 16, 1913. The family was still living in the house on 38th Street. On October 29, 1913, Mercy was taken to the Baker School Mother's Club Better Babies Contest. According to the 'scorecard', she was 23 months old with blue eyes and light hair. On the form Grandma had put her birth weight at 8 1/2 pounds but her baby book said 9 pounds. She was then 24 pounds and 32 inches tall. She was breast fed for 14 months and slept with her mother. She had no speech defects, was not irritable, nervous or bad tempered. Out of the 1000 possible points, Mercy had 965, presumably making her a better baby!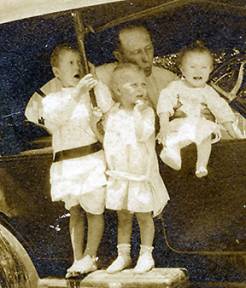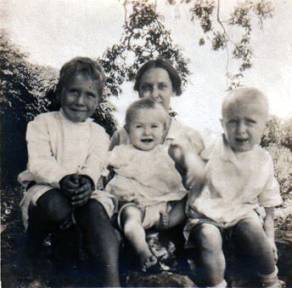 1914
A family camp-out. Mother looks bald!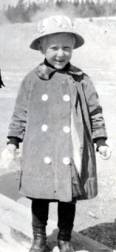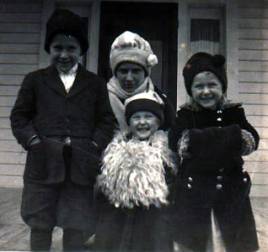 1915
Mother, Jessie Mary and Murray swimming; Mother on a family trip to Yellowstone; dressed for winter at 4312. The family moved into their new house at 4312 Speedway in 1914.
1916
Playing in the snow at 4312
1917
Helen Georgia Ramsey was born at the ranch in Eastland County on September 15, 1917; right, the four Ramsey kids all bundled up against the cold.
In the blank book Smoot and I gave Mother for Christmas 1979, she said, "One of my very earliest memories is at the time my sister, Helen, was born on September 15, 1917. I was almost six years old (lacking two months and 7 days.) She was born on my mother's ranch west of Cisco, in the Main Ranch house where the Sanders lived who leased the rance. The rest of our family were living in the 'converted' barn. The next mroning after Helen was born, I went up to the main house to see her. I can remember so vividely, how badly I wanted to hold her alone. But the nurse kept her hand underneath Helen all the time I held her. Now, as a much older adult, I can readily see why the nurse also held Helen but at that time I felt as if I were not 'grown up' enough to hold her and I was very hurt. I have kept this memory for over 63 years."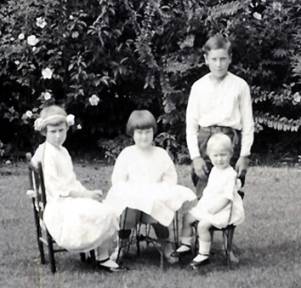 1918
The photo on the right, taken in the side yard at 4312, was used in nursery catalogs. I think Mother, sitting in the chair on the left, looks like Madeline. From Helen's age, it might have been taken in 1919. The one above left, from Helen's age and Mother's reminiscence, was probably taken in early 1918.


In the same reminiscence as above, Mother said, "Another happier memory is the one picture taken of Helen, Jessie Mary, Murray and myself in the south side of our yard. Helen is sitting in my doll buggy and I am pushing her. I was so proud of the fact that she could sit in my doll buggy. Helen must have been only a few months old; so, again, I was only six years old. This picture hangs in one of my bedrooms."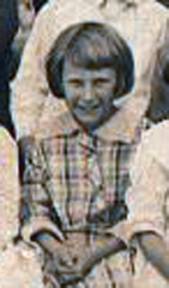 1919
The photo on the left looks so much like a similar one of Madeline and Catherine at the same ages. I'm not sure if it was taken in 1918 or 1919. The image of Mother on the right is from a 1919 class photo. I can almost see myself in that photo.

From the reminiscence, "Jessie Mary and I were closer in age (not quite two years apart) so I did not fee as responsible for her. But I do remember this .. Mother bought most of our clothes and very often Jessie Mary and I had dresses alike, only hers would be blue and mine pink. I remember one dress in particular in which the dress was white, but the eylet trim was blue for her and pink for me. I thought this was one of the pretiest dresses we ever had." It's not known whether the photo above left shows those dresses or not, but it does show both sisters dressed alike. And looking very much like Madeline and Catherine.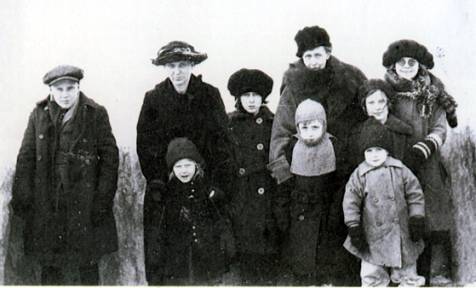 1920 1921
A winter visit to Mary Dauler and her kids, Little Mary, Bill and Liz possbily in 1920 or 1921. Mother would have been 9 or 10. Mother in the headband is from 1921.
1922
A group photo in front of FT and Belle's house at 4412 Ave B; a close-up of Mother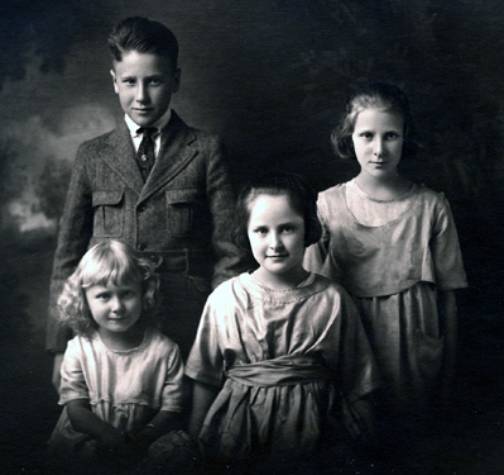 Ramsey siblings (in the version of the photo with wrinkles removed from Mother's dress!)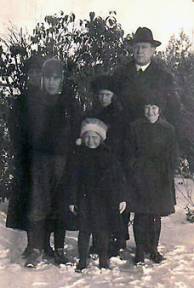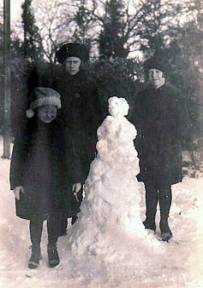 1923
According to a note on the photo back above left, there was a late snow in April 1923 in Austin. At the age of 12, in 1923 Mercy could join the Order of the Rainbow for Girls. I assume she did so because she was active in that organization, working her way up to Grand Worthy Associate Advisor.

1924
The group shot of a family swim outing was taken on June 27, 1924 at the "old place on the San Gabriel." Mother is in the center, next to FT and in front of Grandma. She would have been 12 going on 13. Next to that is Mother in 1924 in some kind of uniform, scout perhaps.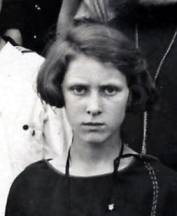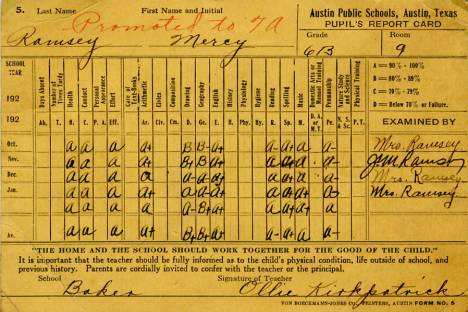 The photo above left, is of the Baker School winners of the Music Memory Contest. Baker School won in 1922, 1923 and 1924. Mother participated in 1924 so the photo was taken that year. Mother is second from the left in the front row. On February 1, 1924, Mercy left Baker School and was admitted into John C. Allan [Junior] High School.
At that time junior high schools only had two greades, 7th and 8th.
Below is her report card for 6th grade, 1923-24. With all the A's and A+'s, she was obviously a good student.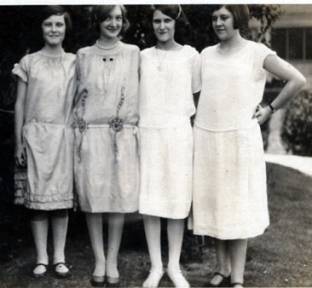 1925
Group photo in front of FT and Belle's house in 1925 and a close-up of Mother. Interesting barrette she's wearing. It appears she's wearing it in the photo below too. Above right, Jessie Mary is on the left and Annabel Murray on the right.

According to the Centennial History of Austin High, Allen Junior High was once in the building at 12th and Rio Grande. Austin High was downtown on Trinity Street. In the fall of 1925, when Mercy was in the 7th grade, Allen and Austin High switched buildings and Austin High was at 12th and Rio Grande until 1975.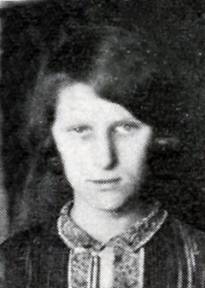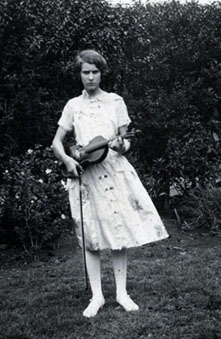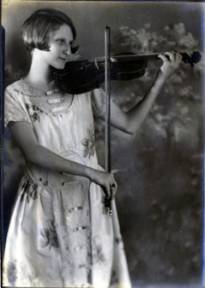 1926
The photo on the upper left was taken from a group photo of winners in the Latin Tournament 1926 in the 1926 Austin High School Comet yearbook. The photo next to it had written on it "13 years old" which meant it was probably taken in the spring of 1925, but I'm including it here since it's the same outfit and was probably taken the same day as the ones below that were used to illustrate a newspaper article on Grandma in 1926. On January 28, 1926, Mercy 'graduated' from Allan Junior High and was admitted to Austin High School.


In the Centennial History of Austin High, Dorothy Watts Dean, a 1927 graduate, wrote an essay on what it was like in those days. She said, "Many world events had affected our lives. My class had been youngsters in early elementary school during the "Great War" as it was called then, or World War I as it is called now. We had memories of the war; the many friends and relatives who lost their lives and the flu epidemic that took the lives of soldiers and civilians alike. [Grandma Ramsey caught that terrible flu but luckily survived.] .. Our lives were greatly affected by the happenings of the "Roaring Twenties." The gangsters; the big cities; prohibition and the illegal use of alcohol; the speak-easies. .. This was the age of the "it' girl: Clara Bow, spit curls,, short skirts, the Charleston. It was not an attractive period in many ways. There was no television, few radios, and no air conditioning. Barton Springs was our main recreational area both for fun and cooling off. .. In the fall of 1926, Mr. Gullett [the principal] announced the breaking up of the very selective girls' clubs. .. He called a group of so-called leaders, girls to his office to discuss the cliques in Austin High School which he hated. It was at this meeting that he told us he wanted to establish an organization open to any girl student who met the one requirement, a B-average." That group ended up being organized along the lines of the UT Orange Jackets. The organizers ordered 100 maroon jackets for the first group of girls and were very upset when the jackets that arrived were red. They decided to call the organization The Red Jackets and the name stuck even though the later jackets were indeed maroon, the official school color. Mother was not shown in the very first photo, though she might have been a member. She was a member in 1928, her senior year.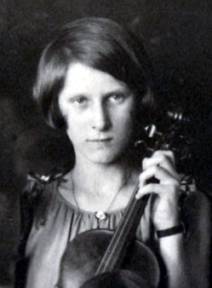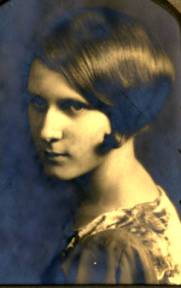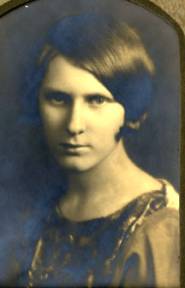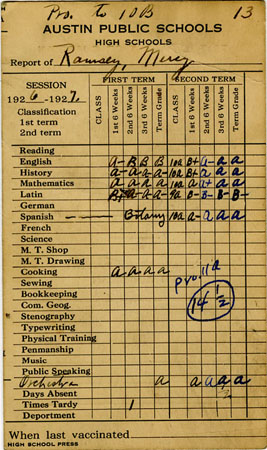 1927
Photo above left of Mother with her violin, may have been taken in 1926. The middle photo was used in the 1927 Austin High School Comet. The one on the left is another in the series. In the Austin High annual, Mercy's nickname was appropriately "Dynamo" and her ambition was to understand geometry. Mercy played in the Austin School Orchestra as a first violin. She was also a member of the Minnie Fisher Cunningham Literary Society. An article pasted in her scrapbook said she was one of the most promising players in a newly created gym class for junior girls that would play basketball. Below is her report card for 10th grade, 1926-27. She continued to be active in Rainbow, attending her first Grand Assembly in Austin in 1927. Her report card still had lots of A's on it.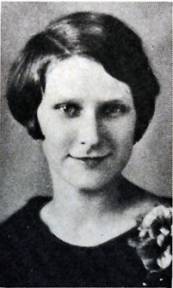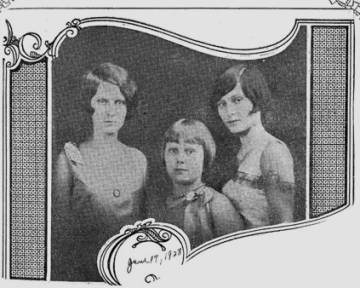 1928
Above left , Mother's senior photo in the 1928 Austin High School Comet. Above right, showing Mother, Helen and Jessie Mary, was published in the Austin paper on June 17, 1928. In her senior year she again was a first violin in the orchestra, was president of M.F. Cunningham Society, a member of the Red Jackets and was honored for scholastic excellence. The graduation ceremony was held on June 1, 1928.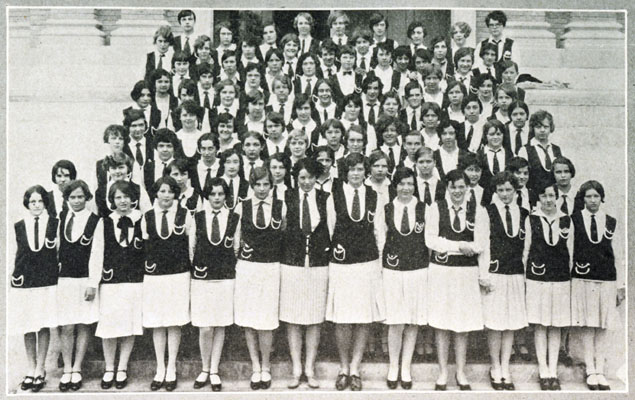 The 1928 Red Jackets at Austin High School. I think Mercy is the second from the left on the back row.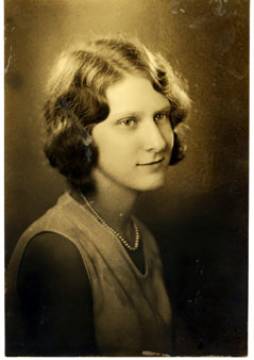 Above left, the report card from her senior year at Austin High School. The school only had 11 grades back then. Right, some bridge tallies from parties Mercy attended in honor of her graduation. The one in the center shows the casual racism that was prevalent then.
I think the photo above commemorates Mother's graduation from high school. In the one on the right, she's holding a diploma and wearing the same set of pearls.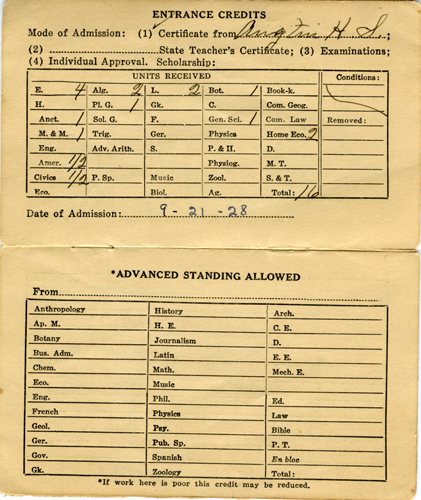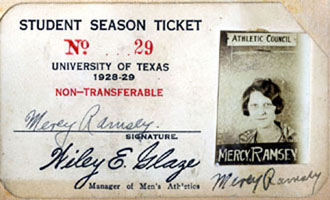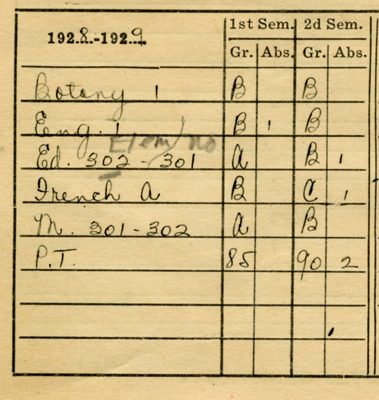 On September 28 at the age of 16, she filled out an information form at UT. She noted she'd graduated from high school, having attended three and a half years, having entered in 1925 and graduated in 1928. In the area for What honors did you receive? she noted she'd had all A and B grades. The form asked of what church she was a member which she answered Christian. The form went on to ask if not a member, what church do you prefer? There wasn't room at UT for non-church goers seemingly. The form shows that Mercy got credit in English, Ancient History, M & M H, American History, Civics, Algebra, Plane Geometry, Latin, Botany, Gen Science and H E from her work at Austin High School. She entered UT in the fall and joined Phi Mu sorority. Mercy met Ed Carl that fall in 1928 when the A&M Corp came to Austin for the Thanksgiving football game. A sorority sister of hers arranged the date. Above center, Mercy's UT athletic season ticket for 1928-29. Above right, her Freshman grades.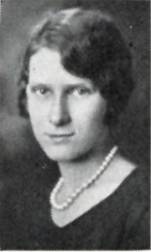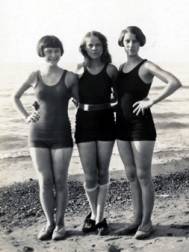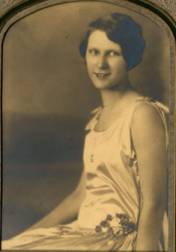 1929
The photo above left was from the Phi Mu page in the 1929 UT Cactus yearbook, from her freshman year. The next photo was from a group of Mrs. Reese's violin students. I'm guessing it is from 1929 because of the hairstyle and grown-up look. The bathing beauty shot of Jessie Mary, Little Mary Dauler and Mother may also have been from around this time period, from a visit up north, as could the photo at right. On May 2, 1929, Mercy was initiated into the Phi Chapter of Phi Mu sorority. On September 21, 1929, she was installed as Worthy Advisor of Austin Assembly No.5, Order of the Rainbow for Girls. She served for four months. A letter in our files postmarked Nov 21, 1929 was from DAR, the Daughters of the American Revolution, inviting Mercy to join the Andrew Carruthers Chapter of the organization in Austin. Another letter, dated November 16, 1929 informed Mercy that she'd been designated a member of the Grand Cross of Color, an honorary group within Rainbow Girls, for all her hard work and dedication to the organization. She was still a big sports fan. The photo on her season ticket for 1929-30 is especially interesting because it shows how different her hairstyle was that year from the previous and following years.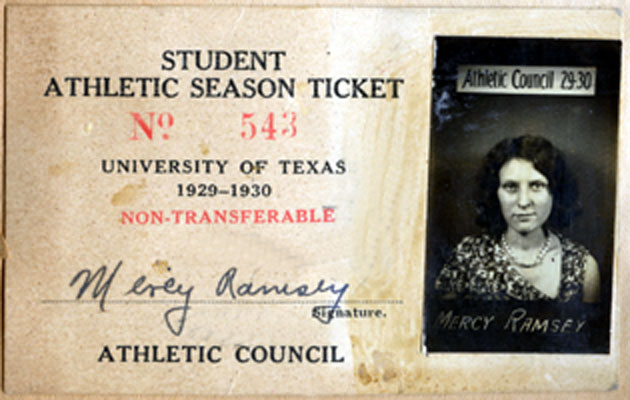 The similarity of her hair in the photo above and the undated ones below make me think the pictures with her best friend, Mae Caller are probably from the same year.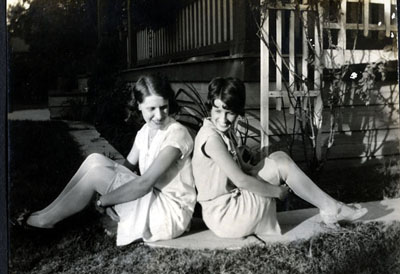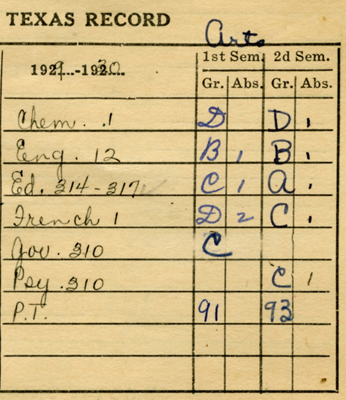 Above right, the record from her Sophomore year.
1930
Two black and white photos from Mother's 1930 UT cactus yearbook, from Phi Mu and the Sidney Lanier Society and a color photo that may have been taken around the same time. She stayed active in Rainbow and in 1930 was elected Grand Drill Leader. She was always interested in sports so every year purchased a season ticket to UT games.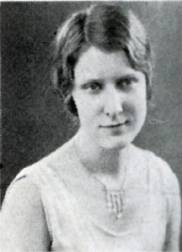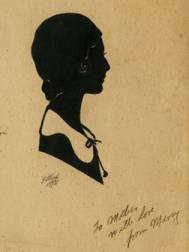 1931
Photos from Mother's 1931 UT cactus, junior class photo and Phi Mu; a color photo possibly from this time and a silhouette probably done at a state fair and her UT season ticket.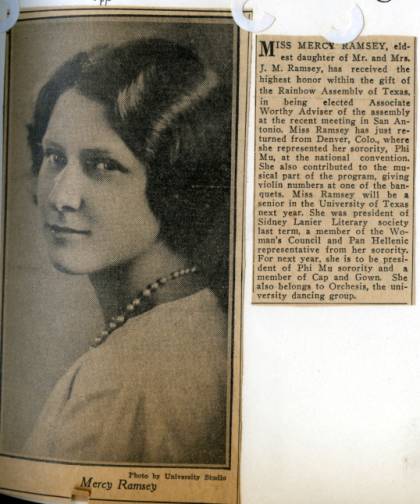 An article published in 1931 in the Austin paper on Mercy being elected Grand Worthy Associate Advisor. It also lists many of her other activities. She was to be president of her Phi Mu chapter in 1932. The article mentioned that she'd just returned from Colorado where she represented her sorority at the national convention. We have the official program from that gathering which was held in Colorado Springs, not Denver as the article said, from June 22-27, 1931. According to the article, she contributed to the musical part of the program, giving violin numbers at one of the banquets. Above right, her UT record from her Junior year.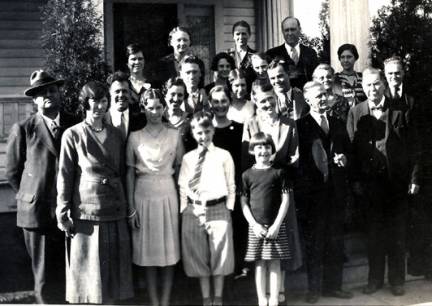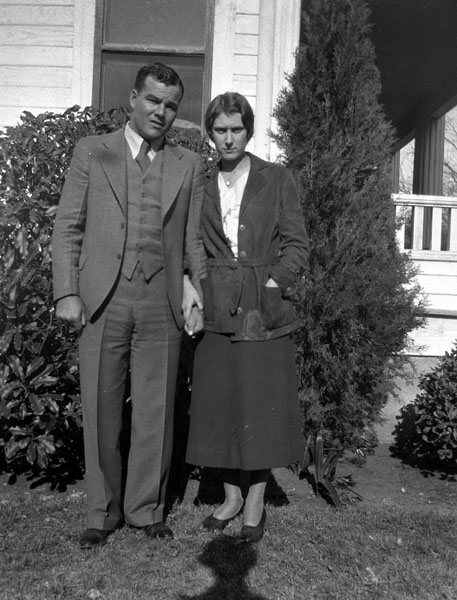 1932
A gathering of family and friends in front of 4312 on January 1, 1932. Mother is in the middle with her boyfriend, Buck next to her.

Joseph Carlyle "Buck" Prejean was from Orange, Texas. He and Mercy must have met at UT where he was a PE major and played guard on the Varsity football team. He didn't graduate until 1934, two years after Mercy, but I don't know if that was because he was two years younger or just slow. After he graduated he took a job as a football coach and math and social science teacher at a school in Shamrock, Texas, east of Amarillo. Mother and he were planning to be married in the summer of 1935, but he called it off. She already had her invitations ordered and dress chosen and was devastated by the rejection. But in later years she said it was for the best, that he wasn't good with money and Ed turned out to be a much better catch. (Buck later married a woman named Blanche Grover and had a son, Joe David Prejean in February 1940, the same year Mercy married Ed.)

According to thank you notes written by students, it appears Mercy did six weeks of student teaching in English in the spring of 1932, prior to graduation. Her supervising teacher was Mrs. Lander. Even though Mercy spent almost all her career teaching in elementary schools, her student teaching was done at Allen Junior High. Mrs. Lander wrote, "I am especially proud that a little girl I taught in Junior High came back to show me how it could be done better.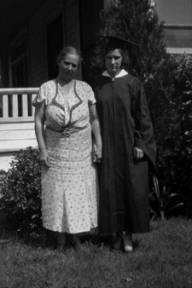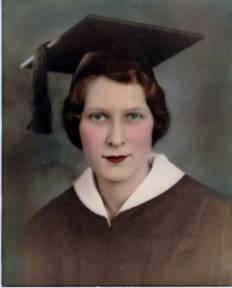 Upper left, Mother's UT senior photo in 1932. Above, her UT record from her Senior year, 1931-32 and two graduate courses in 1935.

Photos from Mother's UT graduation in May 1932. She earned a BA in English with a minor in French. In her senior UT Cactus annual, it was noted she was in the Sidney Lanier Literary Society, Orchesis, Sophomore Cabinet of the YWCA, on the Woman's Honor Council and Cap and Gown as well as Phi Mu. She was president of her Phi Mu chapter. She had been active in many organizations in the university and she continued that after graduation. In the summer of 1932 a Saturday Afternoon Bridge Club was organized with eight charter members, Mercy, Alma Camp, Eula Lea Kohn, Chrystle Sheilds, Allison Shaw, Exelle Bohn, Beulah Belle Daniels, and Helen Sundstrom. The club continued, with different members joining, for over 6o years. That fall Mercy began teaching at Baker School. Because she graduated ahead of Uncle Murray, she was the first one in her generation to get a college degree. In August 1932, Mercy was initiated into Chapter 304 of the Order of the Eastern Star. She was active in the group her entire life.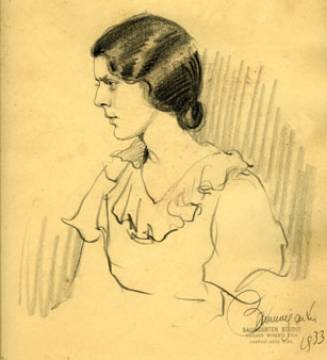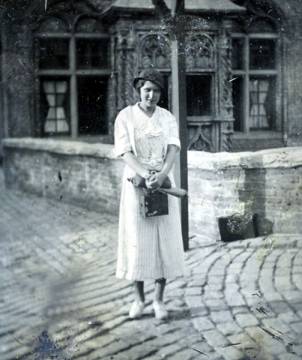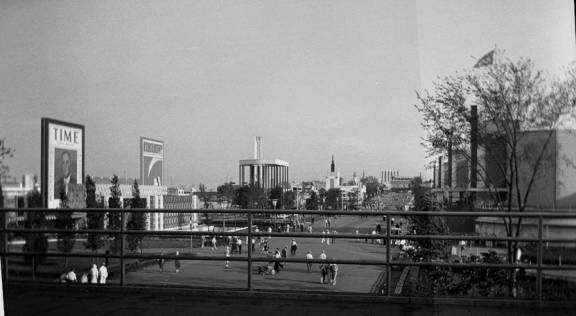 1933
Above, a pencil drawing of Mother from the Chicago World's Fair in 1933; immediately above, Mother at the fair A photo Mercy took at the 1933 World's Fair in Chicago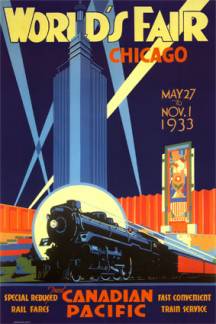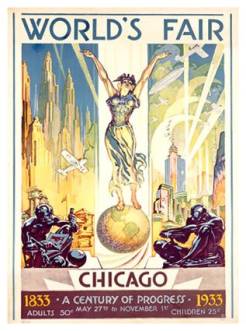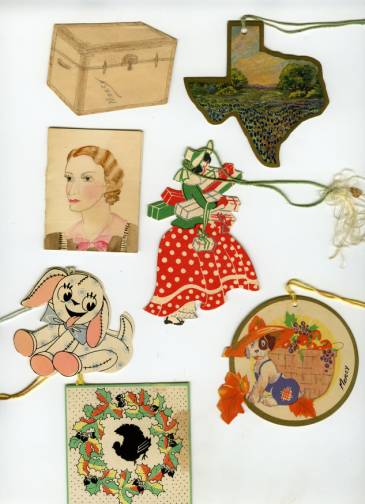 Two posters from the Fair. Assorted cute tally cards from bridge games Mercy played during the 1930's. Since people didn't have television much less the Internet to entertain them, they did things like play cards. By 1933-34, she was a member of AAUW, the American Association of University Women.


The two photos above are of Mother and her class at Baker School.
1934
Above left, Mercy went to see Katharine Cornell in "The Barretts of Wimpole Street" on February 21, 1934. Jessie Mary Ramsey and Julian Cate married on July 27, 1934; the photo above of Mother, from 1934, may be what she wore to their wedding. She was Jessie Mary's Maid of Honor.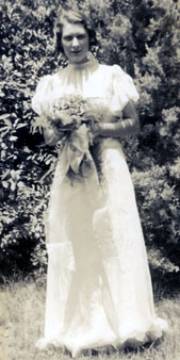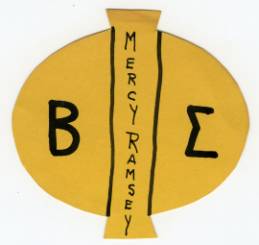 1935
Mother and Mae Caller were best friends, having been together from grade school through college. They were both planning on getting married in 1935 and were to be in each other's weddings. When Mercy broke up with Buck, Mae offered to postpone her wedding, but Mother said no and served as Mae's Maid of Honor. The photo above was taken after Mae's wedding on July 14, 1935. Mother was so hurt by the break-up of her relationship that at the time her wedding and honeymoon would have taken place, she and a group of women friends went on a trip out West. She is second from the right. She didn't waste away. She stayed active in the community and in her many organizations.
She was a member of Beta Sigma Phi. The nametag above is a cute version of the Greek designation:
.
Beta Sigma Phi is an international non-academic sorority founded in 1931 to assist women during the Great Depression, it has grown to the 'largest women's friendship' network in the world, with 200,000 members in 30 countries. Its motto, and Greek initials, means Life, Learning and Friendship.
Above right is an undated ribbon from a Texas Round-up. It was started in 1930 as a celebration to inform parents of prospective students and ex-students of what was going on at UT.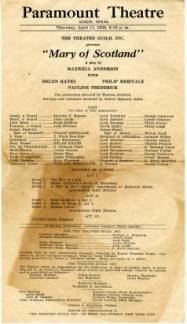 On
January 22, she went to hear Will Rogers at UT; on February 22, 1935, she attended a DAR event; on April 11, 1935, she went to see Helen Hayes in 'Mary of Scotland' at the Paramount Theatre in Austin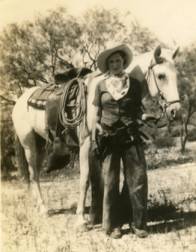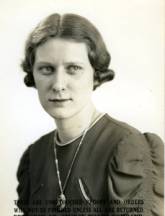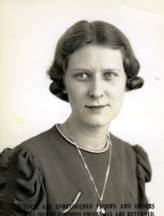 1936
Above left, on January 1, 1936, the cousins got together to celebrate the new year. Above right, Mother dressed up in western gear.
Mother dated other men after Buck but this man is unidentified. From the similarity of the hairstyle in the other photos with the one on the left, I think these proofs were made in 1936.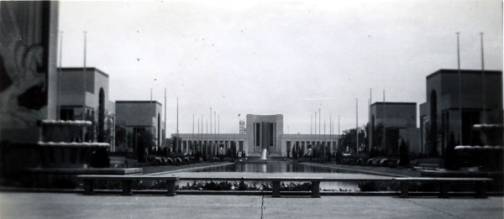 Also in 1936, she attended the Centennial State Fair in Dallas and saw not only television, but television telephones! Mercy's snapshot of the 1936 Centennial State Fair in Dallas in August 1936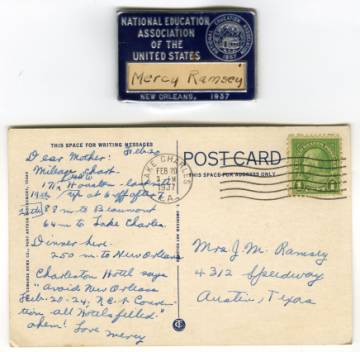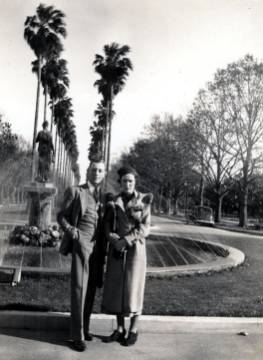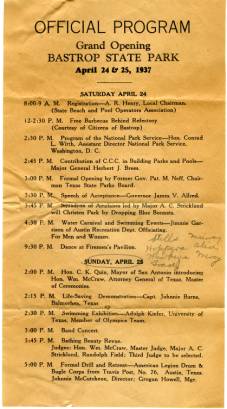 1937
On February 20, 1937, Mercy attended the national meeting of the National Education Association meeting in New Orleans. In her postcard back home, she carefully noted the number of miles between stops. Right, a photo of Mercy with an unidentified man at the NEA meeting on February 21, 1937. She was also a member of the Texas State Teachers Association. On April 25, 1937, Mercy and a group of friends and family attended the grand opening of Bastrop State Park.

The next day, April 26, 1937, she had her picture taken with her Baker School class, 3B. Right, a fuzzy close-up.
In our files we have a note Grandma wrote to Mother on May 24, 1937 thanking her for all her help during Grandma's year as Worthy Matron.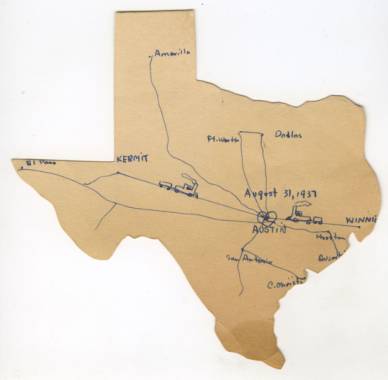 In the summer of 1937, from July 8th through August 1, Grandpa, Grandma, Helen and Mother took a trip up east. They visited the Taylors in DC and then went up to Pittsburgh to visit Mary Dauler and her grown children and grandchildren.The people in the photo are from left to right standing: Elizabeth (aka Betty, Liz) Risacher, Mercy Ramsey, Mary Kay, Mary Perkins Dauler, Mercy Perkins Ramsey, JM Ramsey, Helen Ramsey. Front row: Bill Dauler holding William Lewis 'Billy' Kay and Lewis Gallagher Kay holding Thomas Kay.
On August 31, 1937, Grand Assembly of the Order of the Rainbow for Girls was held in Austin. Mercy would have gotten her majority, or aged out at age 21 in 1932, but she stayed involved with the organization and also joined the Order of the Eastern Star.
But the most exciting news came in December 1937. Mercy
wanted to go see her good friend Mae Caller Roland in Del Rio at Christmas. She was going to take the bus, but Ed called her. He was driving through Austin on his way back to San Antonio, having been let out of the hospital in Colorado. He offered to drive her to Del Rio. She accepted. They must have driven to San Antonio first because she spent the night with one of Julian's aunts. The next day they drove on to Del Rio and that's when he asked her to marry him.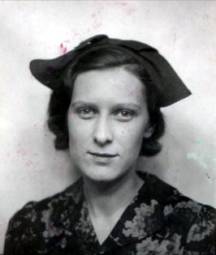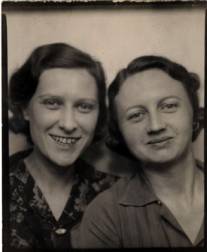 Photos of Mercy taken on October 9, 1937, just a few months before Ed proposed. Above right, Mercy and her sister-in-law, Alice Strong Ramsey. Since Mercy's hair and dress are the same as the pictures above, this photo was probably also taken in 1939. Alice had married Murray Ramsey in September 1931. Mercy and Alice were close to the same age. Alice was born in January 1911 and Mercy in November 1911.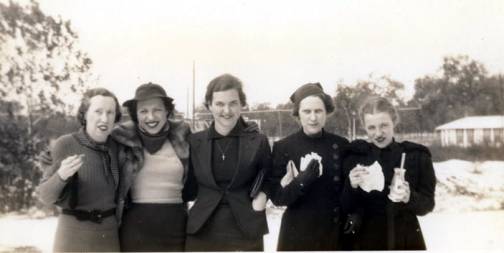 1938
The development date on this set of school photos is March 28, 1938. I assume this is Mercy with some of her fellow Baker School teachers. Mercy is the second from the right, next to the woman holding the old-fashioned milk battle.
Above left, another group photo of the Ramsey clan in front of what had been FT and Belle's house in Austin

In our files is a letter Miss Minnie wrote Mercy on Feb 5, 1938 saying Ed had shared the happy news of their engagement with her and Mr. Carl and welcoming her into the family. Mercy visited Ed in Colorado Springs in June 1938. He was still under medical supervision at a veteran's hospital because of the tuberculosis he caught while working in a CCC camp in 1936. He must have been released and they made plans to marry in 1939, but in the fall of 1938, he fell while trimming a pecan tree in his father's yard in San Antonio and started spitting up blood. Mr. Carl, Sr. drove him to the Army Tubercular Hospital at Legion, Texas near Kerrville, north of San Antonio, where he remained for over a year. That meant their wedding had to be postponed until 1940. Mother told me that after Ed's fall and return to the hospital, she asked Miss Minnie if she should still plan to marry him. Miss Minnie said yes because if Mercy didn't Ed would probably die.
In a postcard she wrote home while on her trip to see Ed in Colorado, she mentioned some of her experiences. Above, earlier in the year, she'd gotten to see Helen Hayes again, this time in 'Victoria Regina.'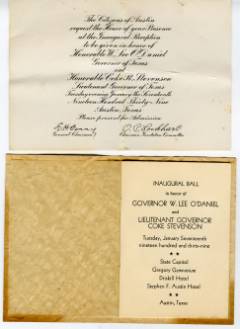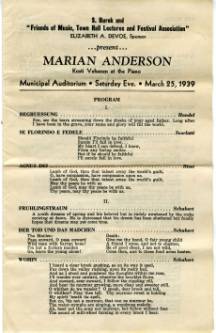 On January 17, 1939, Mercy attended the inaugural reception and ball of new Governor W. Lee O'Daniel. Middle, a program from a performance by Marian Anderson at the Municipal Auditorium in Austin on March 25, 1939. Right, a flyer from a performance on April 16, 1939 in San Antonio by famous pianist Paderewski.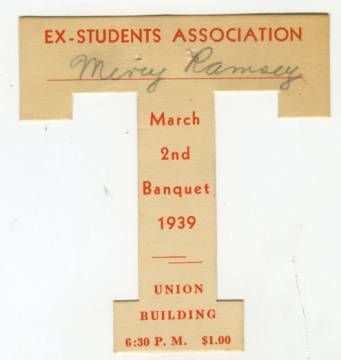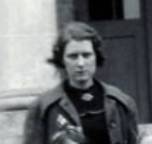 On March 2nd, Texas Independence Day, in 1939, Mercy joined other ex-students to celebrate. She was a member of the Ex Students Association.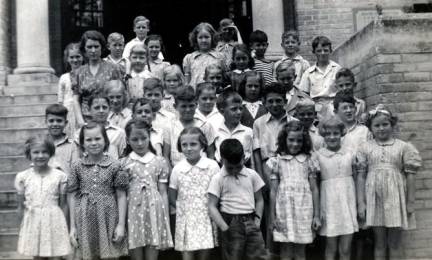 Mother with her 1939 Baker school classes


The development date on the set of school pictures above is Jun 27, 1939, but the upper one is probably from the previous fall term and the one on the other is probably from the spring term, 1939 at Baker School. Mercy got high marks as a teacher. In June 1939, Mr. Porter, her principal said, "Her work is same as before, consistent, dependable and excellent." In our files is a letter from the Pecan Springs School District in Austin dated 4-21-39, offering her a teaching position the following school year. With it is a rough draft of her reply in which she accepted the position. In an interview she said after Baker School she moved to Wooldridge, but unless that school was in the Pecan Springs School District, it appears for the 1939-40 school year she was at Pecan Springs. I'm confused by the contradiction.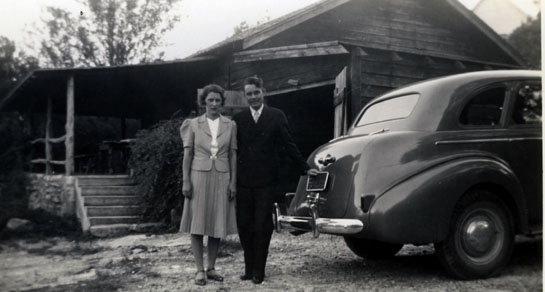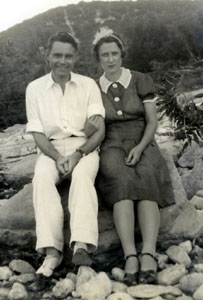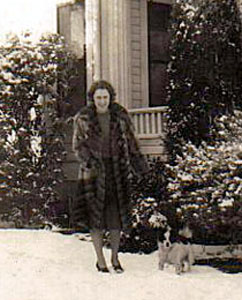 The development date on the photo above left is July 1939. This looks like the cabin where Mercy and Ed honeymooned in 1940. Perhaps they were checking it out! It's interesting that Daddy looks happier than Mother in the pics above. But then, she frowned in her school class photos too. Grandma told her not to show her teeth in pictures, but she was able to smile as can be seen in the snow photo. Above center, Mother and Daddy on an outing in August 1939. In the winter of 1939, Austin had another big snow and Mother got to play in it. We have a copy of Mother's 1939 tax return. Her salary as a teacher was $1,187.50 or $98.96 per month. She contributed $40.50 to the Central Christian Church (the equivalent of $636 in today's money), $1 to the Red Cross and $1 to the Community Chest ($15.70 in 2010 dollars.)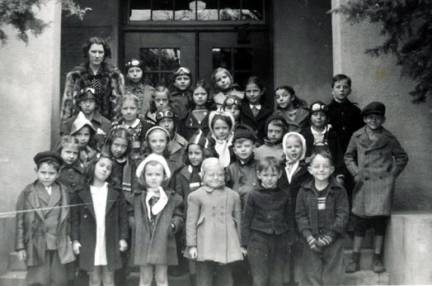 1940
The development date on the photo above left is Feb 6, 1940. Mother had said that after teaching at Baker School, she moved to Wooldridge Elementary, but the offer from the Pecan Springs School Board makes it seem she spent the fall of 1939 and the spring of 1940 at Pecan Springs Elementary. Comparing a photo of Wooldridge at the Austin History Center, it appears this class photo was taken at Wooldridge not at Pecan Springs.


Mother was teaching and therefore bringing in a salary. I don't know if she paid anything for room and board, but I found a statement from Modern Floors dated March 4, 1940 and sent to her at 4312 that noted she'd paid for linoleum, strip and sanding at a total cost of $77.08. (That would be $1,200 in 2010 dollars.) That would have been a lot of money for a teacher since her 1939 tax return noted her annual salary was $1187.50, but knowing she was getting married soon perhaps this was a gift to her parents. Linoleum would have been put on the kitchen floor and also possibly in the bathrooms.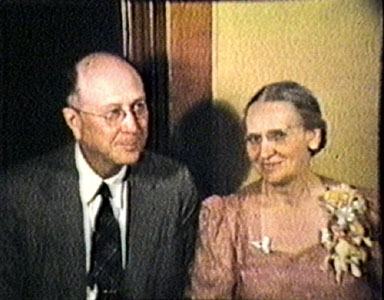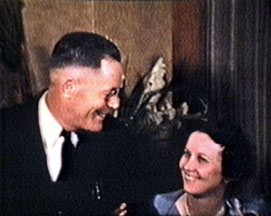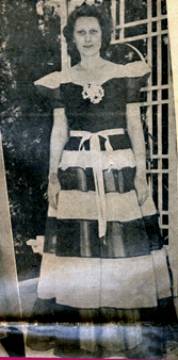 Mother's announcement party was on May 18, 1940. These color images were pulled from the announcement party/wedding movie. JM (with his red mustache) and Mercy Ramsey look pleased for their daughter. And Ed Carl, Sr and Miss Minnie look happy for Ed. Above right, an article on the engagement and party ran in the Austin paper on May 19 with a photo of Mother in her engagement dress.


In an interview Mother gave while watching the party/wedding movie she said, "This is my announcement party. Almost everyone had an announcement party back then. I designed the centerpiece myself: Mercy - June 12th – Ed. (I don't think I had 1940 on there. I can't remember the florist I had do the flowers, it was Connelly's or Hilliare's). The date of the announcement party was May 18, 1940, but I was giving the date of my wedding to be on that little centerpiece there. I had tried to keep it secret from everybody at school because two or three of us were getting married that same summer and I didn't announce mine till real late."


According to the article on the party, the centerpiece on the table was "a crescent arrangement of blue cornflowers spelling the names "Mercy and Ed" separated by the date, June 12. The design was reflected in a mirror which was banked about with sprays of pink cornflowers and white baby's breath beneath the crescent. About the frame of the mirror ran an outline of pink and blue cornflowers. Two pink candles, one on each side of the centerpiece completed the decoration. An Italian cutwork and lace cover was used and trays and candlesticks were of silver. Pink gladiolas and larspur were used throughout other rooms of the home." The blue and pink flowers foreshadowed the colors Mercy used for her wedding.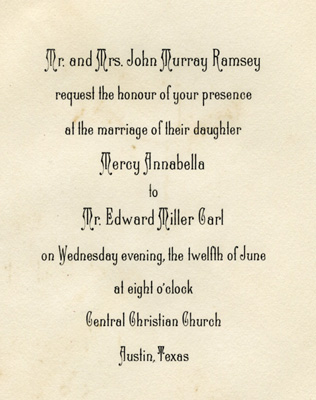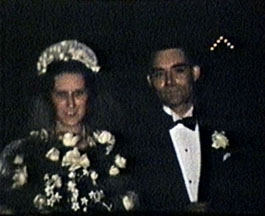 On June 12, 1940, Mercy Ramsey and Ed Carl married at the Central Christian Church in Austin. Above right and below, leaving the church, stills from the wedding movie.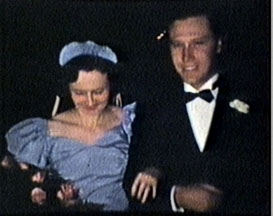 Maxine Fincher, Mercy's friend and C.N. Wideman, Ed's cousin; Walter and Helen Hudlow; Alice and Murray Ramsey; Julian Cate and Mary Jean Murray.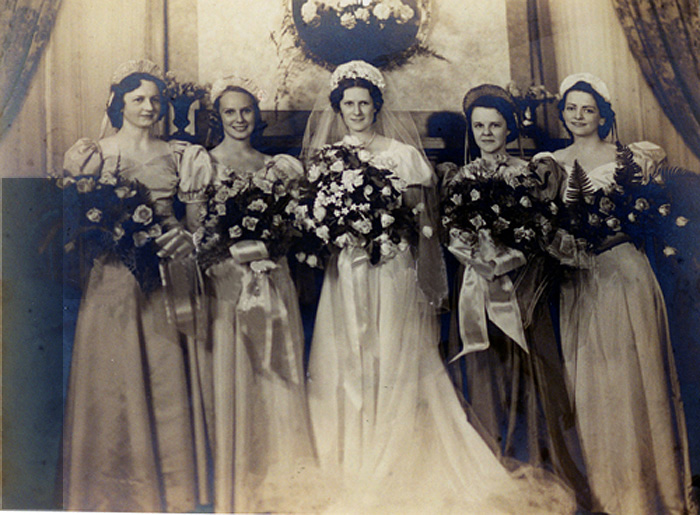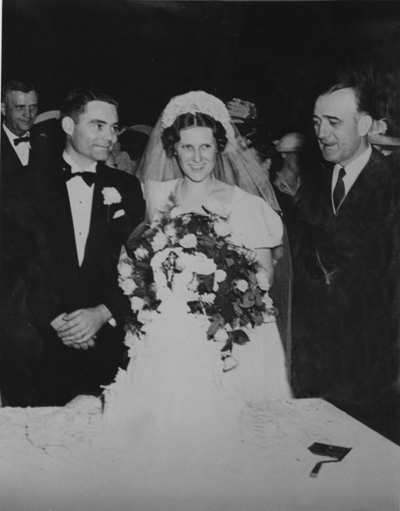 Mother's bridesmaids were Alice Strong Ramsey, Helen Ramsey Hudlow, Maxine Fincher later Templer and Mary Jean Murray later Redfield. Jessie Mary Ramsey Cate and May Caller Rowland were both pregnant so they couldn't be in the wedding party but they helped at the reception. Above right, Ed and Mercy with Dr. Sadler, the pastor of Central Christian Church who married them. The reception was at her parents' house at 4312 Speedway. It was supposed to be outside and it started there, but it rained and they had to bring it in the house.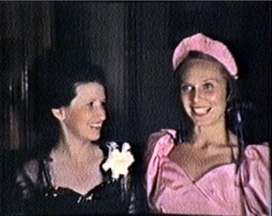 More movie stills, these are from after the wedding. JM and Mercy R again. Mother's colors were blue and pink. She said, "I don't know why I chose pink and blue, I think I just always wanted pink and blue. The roses were pink roses and then mine were the white roses. Their little headdresses were made specially and mine had real white roses. Since Daddy was a nurseryman, we wanted to be fair to all the florists – one florist made my bouquet, another made two [bouquets for the bridesmaids] and another the other two." Annabel and Margaret Murray. Mother said, "Margaret married that summer; we came home from our honeymoon to her wedding. They sang in our wedding and Annabel sang a solo. I think they're singing I Love You Truly. And Ich Liebe Dicht was the other one." Above right, May and Helen. Mother said, "May [Caller Rowland] was from Del Rio. We started in the first grade together and graduated from college together. She was pregnant. I was in her wedding and she was going to be in mine, but couldn't be."
Following the ceremony, Mercy and Ed drove to the Methodist Encampment near Kerrville, Texas, where they spent their honeymoon for several weeks in the summer home of one of Grandma Ramseys TCU classmates, probably Callie Miller Freeman. During their honeymoon family and friends came by to see them including a still-pregnant Jessie Mary and Julian Cate. I don't recognize the other two couples. In the photo on the right, Ed is holding a cat in one hand and a cigarette in the other!