The Carl Descendants of John and Rosanna Summit Swank
by Charlotte Carl-Mitchell
The original of this article was written in March 2003 for the Summitt Family Quarterly, http://www.summittfamilyquarterly.org/, edited by Paul M. Summitt, Summitt New Media. This is an expanded version of that work. In order to shorten the length of time it takes for the document to load, there are links to the illustrations instead of having them displayed with the text.
While doing genealogical research, I discovered two websites that had the same incorrect information on my great grandmother, Mary Elizabeth Swank. She was listed as having married John H. Earl, but my great grandfather's surname was Carl, not Earl. I contacted the websites owners and after explaining my ancestry, was asked to write an article about my part of our extended Summit family.
After agreeing to do the article, I got information from several researchers and printed sources, and to show how one mistake can take on a life of its own, the same incorrect information appeared in all their notes. I'm not sure what was the original source of the mistake, but it has permeated the genealogical record. I would like to try to set that record straight. I can sympathize with whoever made the mistake, however. I too have had trouble reading the names in some of the letters and documents in my collection and if I've made any mistakes, I hope someone will let me know.
To put myself quickly into perspective, I'm descended from John and Rosanna Summit Swank's son Jacob Swank who married Elizabeth Van Meter and had David Swank who married Amanda Miller and had Mary Elizabeth Swank who married John H. Carl and had Edward Miller Carl, Sr. who married Euna Ellerfair Posey and had my father, Edward Miller Carl, Jr. who married Mercy Ramsey and had me and my two sisters.
In 1998, Paul C. Summitt with the help of Bill and Vanessa Adams and several others, collaborated on an extensive research project on the descendants of John and Rosanna Summit Swank. The result was published in the Summitt Family Quarterly, Vol. 4, Issue 4 (January 1999). Mr. Summitt was kind enough to send me a copy of the article as well as a lot of his research material. In an e-mail message he admitted the article contained a lot of information on Jacob and Elizabeth Van Meter Swank, however the only entry he had for their son David Swank was "(1823-1906) married Amanda Miller." I hope my information can help fill the gap of knowledge on David and Amanda Swank and their descendants.
I also received an impressive and meticulously researched report by Glen Summit [referred to as GS later in the article] on the descendants of John Swank that added additional information on David Swank and Amanda Miller and their children. But he too had David and Amanda's daughter, Mary Elizabeth Swank, marrying Mr. Earl and having lots of little Earls. Because of the information available on the two earlier generations, Jacob and Elizabeth Van Meter Swank, and John and Rosanna Summit Swank, I am going to focus on the generations that followed. I am relatively new to genealogy and my information is from notes and research my father did before his death in 1987 and the research I've done since then. My comments will come equally if not more from family lore than documented research but at least it's a place to start.
According to notes compiled by Ed Carl, Jr., the Swanks were part of the group of early Americans called Pennsylvania Dutch. (The Dutch was a corruption of Deutsch, meaning German.) This name was applied to Swiss, German and even French Huguenots who arrived in America in the 1700s and early 1800s and settled in south-central and eastern Pennsylvania. Almost all of these immigrants came from the area of South Germany known as The Palatinate so they were called Palatines. The Swanks initially arrived and settled in Pennsylvania but later migrated to Kentucky as recruited members of one of Daniel Boone's return trips. Later, probably because of Indian uprisings in Kentucky, they moved to what is now Mississippi County in Missouri.
My great grandmother, Mary Elizabeth Swank Carl said that some of her Swanks fought in the American Revolution under Gen. Mad Anthony Wayne, but I haven't been able to verify that. She also said her Swanks were related to "Molly Pitcher" (the heroine of the Revolutionary War who tore off her petticoat to swab out the American cannons and brought pitchers of water to the men and her husband in an artillery battery at the Battle of Monmouth). I've not been able to verify that either.
Jacob Swank was born on 28 Jan 1776 in Monongalia, Virginia/Pennsylvania. He married Elizabeth Van Meter 20 Apr 1797 in Hardin Co., Kentucky; and died in 1853 in Mississippi County, Missouri. Elizabeth Van Meter was of Dutch descent, born on 25 July 1780 to Abraham and Elizabeth Cline (or Kline) Van Meter. Elizabeth Van Meter Swank died on 15 Sept 1846. Both Jacob and Elizabeth were buried in Mississippi County. They had eleven children:
John Swank (1798-1866) married Sarah Lee
Letitia (Lettice) Swank (1799-1851) married Garrard Goodin
Jacob Swank Jr. (1804-1894) married Mary Quigley
William Swank (1807-1889) married Lettie Ashby or Lettia Van Meter
Eleanor Swank (1809-1851) married (1) Thomas Vernon, (2) Joseph Dyson
Catherine Swank (1812-1867) married John Goodin
Elizabeth Swank (1813-1845) married James Washington Smith
Sarah Swank (1816- ) married (1) James Alton, (2) James Crutcher
Silas Swank (1819-1885) married (1) Sarah Thompson Randall, (2) Frances Thompson
** David Swank (1823-1906) married Amanda Miller
Mary Swank
According to my notes and pages from the family Bible, David Swank was born on 15 Sept 1823 in Hardin County, Kentucky. [Mr. Glen Summit says it was 23 Sept 1823.] David was approximately 13 years of age when his family moved from Kentucky to Charleston, Missouri in 1836. Charleston is in the southeastern most corner of the state in an area called Missouri's Bootheel because of the shape of the area that abuts Illinois, Kentucky, Tennessee and Arkansas. David married Amanda Miller on 15 Mar 1849 in Arkansas.
MAP OF MISSOURI AND THE SURROUNDING STATES
The map shows Charleston, MO marked in yellow and Hardin, KY in pink. (The image is from the Sikeston Miner Missouri website: http://rosecity.net/sikeston/links.html.)


In 2010 I received an e-mail from Tim Campbell in Garfield, KY who had seen this article. He said, "I saw your Swank family information on your web page and noticed an error in location you may not realize you may have. I am also a descendant of John Swank and his wife Rosanna through their daughter Hannah who was married to Jonas gray. John Swank was my 5th great grandfather. I noticed that you have the TOWN of Hardin Ky shown on a map in pink. It might interest you to know that John Swank & his wife are both buried in Hardin COUNTY Ky. in the city of Elizabethtown, quite a bit east of the town of Hardin. Hannah and her husband Jonas are also buried there. They are in the Edlin Cemetery up in the woods behind the swimming pool at the Country Hearth Inn by the I-65 interchange. John Swank has a revolutionary soldier marker there. When you are standing in the Cemetery you overlook Buffalo Creek, a small branch called out on the original land grant warrant. I have attached a copy of the land grant stuff, one was signed by Patric Henry when he was Gov. of Virginia. All of Kentucky was Fincastle county Virginia at one time, later Jefferson county was carved out of it, the Hardin carved out of Jefferson. Elizabethtown was known then as Severns Valley, named after the first surveyor in "the valley" Swank's survey was done by George May. This is why the Virginia Gov. was giving out the Kentucky land. The Hardin county historical society has also published in error that all of the family had eventually moved to Missouri, not true, the descended line through Hannah stayed here and many are buried in Hardin & Breckinridge counties with several being in the Gray cemetery in Dyer Ky. My paternal grandmother was a Gray. There are a lot of stories about John Swank being killed by the indians on the cofer farm while on his way to Bardstown. There are also a lot of stories about early Ky settlers in the Elizabethtown Ky area and Hardin county. Hardin county and the county seat of Breckinridge county, Hardinsburg, were both named after "Indian" Bill Hardin."

David and his siblings lived at a turbulent time in American history. We have a photocopy of a letter Silas Swank wrote his brother David on 19 Dec 1860 in which he talks about the trials and tribulations of his family - a bad bout with measles over the winter, the death of a child and other illnesses. But he also included happy news, that ńour niece, Beck McFarland and Dr. Simpson is about to get married ... as I believe also May Swank and Price Lane also, Laura and Thomas Beckwith.ī They had had a good corn crop and the wheat looked fine but the river had been very low so freight costs were high. It was at this point he mentioned his fear the Union would split and launched into a diatribe against those "professinal men who are willing to bow their heads and ware old Abe Linkins yok." He might not have been educated or a good speller, but he was aware of what was going on around him.
Excerpt from Silas Swank's letter to his brother David showing the part about 'old Abe Linken.' QUOTE FROM ORIGINAL LETTER and transcript of entire letter written 19 Dec 1860, PAGE 1, PAGE 2, PAGE 3


We also have a copy of a letter David Swank wrote to his niece, by marriage, Mrs. Emma Embree in 1896. After some research, I was able to identify Mrs. Embree and discover her relationship to David. Mary Emma Fairly (or Fairleigh) was born on 31 Mar 1851 in Union Church, Jefferson Co., Mississippi. She married James William Swank on 2 June 1870. James was born on 17 Jan 1832 in Kentucky. He was the son of David's brother Jacob Swank, Jr. and his wife Mary Quigley. According to Paul C. Summitt, "Jacob Swank Jr. (1804-1894) apparently lived in Hardin County until the mid-1830s and then went to Missouri with his father. Both a Jacob Swank and a Jacob Swank Jr. are listed in the 1840 census for Scott county, Missouri, which in 1845 would give birth to Mississippi county." Jacob Jr. and Mary had two other children. Their son, John Swank died at 12 years of age. Another son, Jacob "Jake" Swank married Martha Miller, David's wife Amanda's sister, and had one son who also died young. It might seem strange for David's nephew to marry David's sister-in-law since David and Jake would be of two different generations, but Jake's father Jacob, Jr. was 19 years older than David.
James William or 'Wills' was married before Emma to Mary Ellen McDonald. There seems to be a disagreement about how many children resulted from which marriage. Karalee Goranflo listed four children from the first marriage and five from the second, but in her list two of the children's names repeat. Mrs. Elma Rust, a genealogist who worked with my father in 1979 and the early 1980s, said there were two children from the first marriage to Mary Ellen McDonald and six from the second to Emma Fairly. Glen Summit also listed eight children and noted the first two, Mary and John William, were probably from a previous marriage.
Combining information from Mrs. Rust and Mr. Summit, the children of James William Swank were:
Mary Jane "Molly" Swank m. Ed Taliaferro
John Swank m. Anna May Luiton
Lula (Talula) Alice Swank, b. 10 March 1871 in Texas, m. A. M. Shipe
James Clay Swank, b. 13 Oct 1872 in Texas, m. Maggie Maulding
Robert E. Lee Swank b. 8 Feb 1876, never married
Emma Belle Swank b. 10 Dec 1877 in Turners Bend on Brazos River, Somervell Co, Tx, never married
Katie Effie Swank b. 8 Aug 1878, died young
Minnie Ella Swank b. 24 March 1880 in Texas, never married
James William Swank died on 14 Sept 1881 and was buried in Squaw Creek Cemetery, Rainbow, Somervell County, Texas. Emma Fairly Swank then married Perry Lincoln Embree in 1883 and had three children with him between 1884 and 1894. Since the letter from David to her was dated 1896, he obviously kept up with her even after her second marriage and family. Referring to his nephew, he said, "our fathers fought under Gen Wayne and his father under Washington. Our father was born in Ky. during the first settlements of that State in a fort owned by our Grandfather. Will's Grandma on our side was born in the same state in a fort owned by her Pa where Louisville Ky. now stands. Her people are Vanmeters Hay Cooffs Nandius and Ex president Tyler. All of the most leading families of that state. Will's Ma was a Miss Mary Quigly whose father died whilst she was quite young but [who was] one of the leading men of that day."
MILLER FAMILY BIBLE PAGES - BIRTHS, MARRIAGES, DEATHS

Amanda Miller was the daughter of Pamelia (Pamela or Permelia) Caroline Carothers and Robert Richardson Miller. R.R. Miller was born in Virginia on 10 Apr 1809 and died on 25 Sept 1876. Pamelia Carothers was born in Tennessee on 14 Nov 1814 and died 6 Mar 1859. Her family was of Scot/Irish roots. Pamelia and R. R. were married 6 Jan 1831 according to an entry in the family Bible. In 1850 the family was living in Union Township of St. Francis County, Arkansas. By 1860, the Miller family had moved to Greene County, Arkansas and settled in St. Francis Township. After Pamelia's death in 1859, Robert Miller married again because the 1860 census listed his wife as Matilda. It also listed him as owning real property worth $3,000 and personal property valued at $1,800. $4,800 in 1860 would be $104,347 in 2002 dollars. In the 1870 census, R. R. was listed as blind, but he was obviously a man of some substance. Pages from the family Bible list the births and deaths of these children:
** Amanda Miller (24 Dec 1831- )
John Middleton Miller (9 Mar 1833- )
Martha Miller (23 Sept 1834- ) married Jacob "Jake" Swank, David's nephew, Oct 1852
Mary Miller (9 Aug 1836- ) married John Armstrong
Jane Miller (23 Aug 1838- ) married Noble J. Self, Oct 1861
Lucinda Miller (25 Feb 1840-29 Aug 1844)
Elisabeth Miller (7 Dec 1841- ) married Elisha Bobo, 14 Mar 1861 (?)
James Marshall Miller (16 Apr 1843-30 Jan 1854)
Jacob Morris Miller (6 Jan 1845- )
Virginia Miller (5 Dec 1846- ) married James Thompson 28 June 1866
Robert Carothers Miller (5 May 1849-14 Sept 1850)
William Samuel Miller (4 Apr 1851- ) married Mary Victoria Stepp
Amanda Miller was born on 24 Dec 1831 in Arkansas. A family story says that she was a good horsewoman (perhaps her Virginia heritage) and that she and David Swank met when he rescued her as she tried to ride across a swollen stream. Amanda and David Swank married in 15 March 1849. In the 1850 census, she was listed as living with her parents. That was because David was at the California Gold Rush. Their first child was born on 22 Dec 1849, but their second not until 24 Apr 1852 so either she lost a baby or David didn't get back from the California gold fields until the middle of 1851.
In 1980, a granddaughter of William Samuel Miller, Amanda's youngest brother, reminisced about her Miller ancestors. She remembered Jacob Morris Miller, "Uncle Jake," as being of very small stature, as were all the Millers, it seems. She remembered her great aunts Virginia Miller Thompson, whom she called "Aunt Vir" and Elisabeth Miller Bobo whom she called "Aunt Liz." Virginia named two of her daughters after her sisters, one being Amanda and the other Elisabeth, whom the granddaughter called "Aunt Lizzie." In later years, Virginia told stories about when her father lived in Virginia and owned slaves. "On Sunday mornings when they were preparing to go to church, they would have slaves put 'grease' (bacon?) on their faces so they would look well fed. Negroes tend to look 'ashey' when they are poorly fed," she explained. According to the 1830 census, Richard Miller had four slaves and William Carothers, Pamelia's father, had five. In the 1840 census, Mr. Carothers had nine slaves. Both Edward Miller Carl Sr. and Jr. were given the Miller name to honor Amanda's family.
PICTURE OF AMANDA MILLER SWANK AND MARY ELIZABETH SWANK
A hand-detailed photograph of Amanda Miller Swank and her daughter Mary Elizabeth Swank. Since Mary was born in Dec 1853, the image probably dates to around 1857. This would be about the time David and Amanda moved from MO to TX. Mary remembered being around 5 when they moved.


We have a transcription of a letter Mary Swank wrote. In it she says about her father, "The Rev. David Swank was born in Harden, now LaRue county Ky. Sept. 15, 1823 in the community with Abraham Lincoln with whom he was intimately acquainted in his early manhood days. His mother was Elizabeth Vanmeter whose father settled in Louisville, Ky. and was a cousin of President John Tyler; his father Jacob Swank faught under Mad Anthony Wayne and was with him at Stoney Point and at early age he my father migrated to Missouri, going into the general merchandise business at Charleston, of which city he served as mayor. After getting burned out at Charleston he went to California in 1849 to try to retrieve his fortune. Later he came to Texas and engaged in the merchantile business at Wanahachie first and then at Peora, in Will County. He voted against secession but when it carried he cast his lot with his adopted home Texas serving as bookkeeper in the quartermaster department at Wourton (Houston? Wharton?) for a time and afterwards as Captain of a company who guarded our frontier from the Indians. After the Civil War he removed with his family to Benton Co., Ark and to this union twelve children were born."

PAGES FROM THE SWANK FAMILY BIBLE - PAGE 1 - BIRTHS & DEATHS, PAGE 2
- BIRTHS & DEATHS, PAGE 3 - MARRIAGES, PAGE 4 BIRTHS & DEATHS


According to census, Bible and other records, David and Amanda Miller Swank's children were:
William Henry Swank b. 22 Dec 1849 in Arkansas, died in Texas, murdered by a Baptist preacher
David Hervey Swank b. 24 Apr 1852 in Arkansas[GS says 1851] m. Susan Bright, son, David Jr.
** Mary Elizabeth Swank b. 6 Dec 1853 in Phillips Co, Arkansas [GS says Greene Co.] m. John H. Carl
Catherine Miller Swank b. 2 Dec 1855 in Arkansas and drowned in Spavinaw Creek, 16 July 1869
Alma Marshall Swank b. 14 Sept 1857 in Missouri; died single
Amanda Elizabeth Swank b. 26 May 1859 in Texas [GS has Amanda Eliza Mittie Swank b. in Missouri]
Martha Ellen Swank b. 18 Aug 1861 in Texas [GS says Charleston], m. Zelph (or Zeph) Phillips 27 Apr 1880 and d. 21 June 1883
Charlie Pierce Swank b. 22 May 1864 in Texas, d. 8 Aug 1866
Samuel Jacob Swank b. 27 Apr 1866 in Texas; died single
John Walter Swank b. 24 Sept 1868 in Arkansas and killed in a mine accident 3 Sept 1884
Robert Richardson Swank b. 5 Sept 1869 [GS says Sept 1871]
Laura Jane Swank b. 26 May 1873
David Swank was a lay Methodist minister and circuit rider. In addition, he became a gold prospector in 1849, the same year he and Amanda married, when he, along with some of his brothers, took part in the California Gold Rush. From birth records of their children, it appears David and Amanda moved from Arkansas to Missouri sometime between 1855 and 1857 since their child Alma Marshall was born 14 Sept 1857 in Missouri. They then moved from Missouri to Texas during the period 1857-1859. This matches what their daughter Mary said in later years, that she was about five years old at the time. She also said the move occurred on the advice of a doctor in Missouri. Amanda suffered from a health condition and it was thought she needed the dry air of Texas for recovery. Another theory, advanced by Ed Carl, Jr. was that David foresaw the coming of the Civil War and did not wish to become involved or to subject his family to the possible hazards of war. For whatever reason, David moved his family and settled on Paluxy Creek, which was near what is now Glen Rose, west of Ft. Worth. Mary often reminisced about the times she and her brothers and sisters would go down to the stream to play and gather wild mustang grapes. They later moved to Johnson County, near the Brazos river. Once established in a log cabin, David began raising horses and cows. He eventually was appointed a captain of a local Ranger company for protection from raiding Indian groups. Once, when he and the local rangers were away, Indians raided their home and stole their horses. She was later quoted as saying she lived through many Indian raids and on more than one occasion manned the powder horn while the men prepared the long muzzle-loaders. One time, as Mary told the story, Amanda noticed corn missing from their corn crib. That night she told her children to hide, got her musket, opened their cabin door and waited for the thief to go by. She called a warning, then shot into the darkness. The next day the children saw their neighborhood doctor sitting on a grapevine on Paluxy Creek, bleeding. Not all the people who stole in those days were Indians!
The record in the family Bible states that David and Amanda's daughter, Amanda Elizabeth Swank was born on 26 May 1859 in Texas. Glen Summit listed her name as Amanda Eliza Mittie Swank. Information on the Swanks compiled by Mrs. Elma Rust and sent to my father, Ed Carl, Jr. in 1979 also listed Amanda that way. According to Mrs. Rust, Amanda Eliza Mittie was born in 1859, married in 1885 Gustave Ferdinand Von Fintel and with him had four children: Gus. F. Jr. (1886-1909); Edward Henry (1888-1907); Jennie Mittie (1889- ); and Elizabeth Rhea (1891- ). My father admitted that until he saw the information, he hadn't known which of David and Amanda's children was 'Mittie.' He remembered meeting 'Aunt Mit' when he was in high school. and she came to visit her sister, Mary, Ed's grandmother. He noted that both women were small and dainty, but very active and sturdy. "Aunt Mit was a 'honey blonde' with blue eyes, both of which she inherited from her father. Grandma Carl had jet black hair and dark eyes, which she inherited from her mother, Amanda." A death notice for Mary Carl in 1949 noted that her sister, Mrs. Mittie von Fintel of Indian, Oklahoma was one of her survivors.

PICTURE OF MARY SWANK CARL AND MITTIE SWANK VON FINTEL
This photograph shows Mary Elizabeth Swank Carl, left, and her sister Amanda 'Mittie' Swank Von Fintell, right. Also shown are Minnie Carl and her son J. W. Carl. The sisters are too old to show the stark difference in their coloring, but younger pictures of Mary show how dark her hair and eyes were.

Unfortunately, Mrs. Rust's list also had Mary marrying a John H. Earl (instead of Carl), two of their sons marrying women named Bouner (instead of Bonner), one son being named David Harvey instead of David Hervey and another son marrying a woman named Wilderman (instead of Wideman) - incorrect information that was assumed correct by later researchers. Mrs. Rust may have been the source of the errors or passed them along from somewhere else. In addition, her list noted that David and Amanda's son David married a Susan Bright and had a son, David H. Jr.; that their daughter, Martha Ellen married Zeph Phillips but had no children; and that Laura Jane married a Mr. Swimford and had a child, Earl. Both Glen Summit and Karalee Goranflo list Martha Ellen's husband as Zelph Phillips. Mrs. Rust obviously worked very hard in compiling information on the Swanks and in 1982 published a 172 page book entitled "John Swank, ca. 1750-1794, and some of his descendents." Even with the mistakes on some of my family, her report is still a helpful source of information.
For more information on the Swanks, see Mrs. Rust's lists of the descendants of the children of Jacob and Elizabeth Van Meter Swank: John Swank, page 1, page 2, page 3; Letitia Swank Goodin; Jacob Swank Jr.; William D. Swank page 1, page 2, page 3; Mary "Polly" Swank LaFollete; Eleanor Swank Vernon page 1, page 2; Catherine Ann Swank Goodin page 1, page 2; Elizabeth Swank Smith page 1, page 2; Sarah Swank Crutcher Alton and Silas Swank; David Swank. I have added corrections to the last page, the descendants of David Swank, including Edward Miller Carl Sr.'s second marriage to Minnie Fullkes.
According to genealogical records, David must have moved his family back to Arkansas between 1866 and 1868 because a son was born in Texas on 27 Apr 1866 and another son in Arkansas on 24 Sept 1868. We have a copy of a receipt dated 6 Dec 1866 and signed by Amanda Swank selling her entire stock of cattle running within Hood, Johnson, Erath, Bosque and Hill counties in Texas for $475. Perhaps they were liquidating their property before they moved. The 1870 census for Round Prairie Township, Benton County, Arkansas lists David, Amanda, their children William, David, Alma, Amanda, Ellen, Samuel and John and a housekeeper named Virginia. David was listed as a farmer and Alma, Amanda, Ellen and Samuel were students. David and Amanda didn't stay in Arkansas, however. After the California Gold Rush, there was a Silver and Gold Rush in Colorado in the 1870s and 1880s. According to Mary, David and Amanda Swank and some of their family joined that Rush along with Mary's husband, John H. Carl. The timing of this journey was referred to years later by one of David's grandsons. Newt Carl said his "Grandfather Swank, Uncle Al, Uncle Dave" and his Father left with the gold rush for Ledville, Colorado a little while after his sister Ella was born, in March 1879. In the 1880 census for Osage Township, Benton County, Arkansas, the Swank family name was listed, but David himself wasn't named. He was noted as being 55, white and married. Amanda was 53, a wife and housekeeper. Their son David (the "Uncle Dave" from Newt's letter) was listed as being 27, a farmer and a widower. In the letter David Swank wrote to Emma Embree in 1896, he mentioned "the trouble in which my son Dave got into here arose from leaving his wife." David went on to say Dave's wife had an uncontrollable temper, that he stood it for 11 years and then divided (separated?) and left. He also said that Dave's brother and sisters in Colorado were doing well. The next child listed in the 1880 census was Allen ("Uncle Al?"), 23, single and a farmer. That confused me because I thought the child born after David, Alma Marshall Swank, was female, but the child was listed as male in the 1870 census as well as the 1880, though in 1870 the name was listed as Alana and in 1880 as Allen. To make things more confusing, we have a copy of a calling card for Alma M. Swank that has a bouquet of flowers on it and looks very feminine. One of David and Amanda's grandsons, J.F. Carl, named his daughter Alma. If Newt's memories were correct, David could have been in Colorado when the census enumerator came to call on 5 June 1880, but if so, Al and Dave weren't with him, at least on that day. Continuing down the 1880 census list, Mittie was 19 and a teacher; Samuel, 15, John, 13 and Robert 10, were at school. Laura, 6, was not.
ALMA M. SWANK'S CALLING CARD
The calling card looks very feminine for a man. But if Alma were a woman, who was Uncle Al Swank and why did two census reports say he was male? One of those little family mysteries.


Whatever the timing, the trek to Colorado occurred and resulted in two tragedies. Amanda died on 12 October 1881 and was buried in Denver, and one of David and Amanda's sons, John Walter Swank, was killed in a mine accident on 3 Sept 1884, just a few weeks before he turned 16. In later years, Mary used large chunks of gold and silver quartz rock for door-stoppers as mementos of her Swank family's trek to Colorado. In addition to being a minister and prospector, David seems to have also been an expert in homeopathic medicine and passed that knowledge on to his daughter. His grandson graduated from Dr. David Swank's School of Pantherapy and Osteopathology in 1902. It's possible that the 'Dr. David Swank' who ran the school could have been the Rev. Swank's son David, but the older Swank was alive in 1902 so the school could have just as well been his. David Swank Sr. eventually moved back to Texas. In the letter David wrote Emma Embree in 1896, he said he sometimes felt bad when he thought of the past, the loss of his wife and six children. "How sadly I am. Poor in this world's goods. No permanent home. a wayfairing man. I look forward to the day when I shall meet those gone before. My dear niece and children I may never see you in this life as I do not think [it] possible for me to pay you a visit. I am so poor and old. You see from my writing that I am so nervous. I hope this may find you all well and God's blessings resting upon you." David Swank died in Corsicana from myocarditis, or inflammation of the heart muscle, on 11 Feb 1906 and is buried in Pettys Chapel Cemetery.
In addition to being a Methodist minister, a gold prospector, a farmer, rancher, ranger and father, David Swank was a poet. We have copies of two of his poems written in 1879 and another undated one.
DAVID SWANK'S POEMS
Here are three poems written by the Rev. David Swank: Only a While, Untitled, O Lord Let Me Do Thy Bidding. The first two are from photocopies. I have the original of the third one.


Amanda Miller and the Rev. David Swank were the parents of Mary Elizabeth Swank who was born on 6 Dec 1853 in Phillips County, Arkansas. (In a letter written by Mary's son Newt in 1952, he said she was born either in Northeast Arkansas or Charleston, Missouri, but the record in the family Bible says Phillips County, Arkansas.) According to Wanda Pyburn, Mary's great granddaughter through Tom Carl, Mary was taught 'homeopathic medicine' from her father, David Swank. It was said that "when the men were away at [the Civil] war she kept the women and children from starving in the winter by collecting roots and herbs in the forest." In 1988 Mrs. Pyburn donated to the Fort Worth Museum of Science and History the 'Civil War Quilt' that tradition says Mary made out of old Civil War uniforms.
MAP OF ARKANSAS WITH BENTON CO. & PHILLIPS CO. HIGHLIGHTED
I got this map of Arkansas from the Access Genealogy site:
http://www.accessgenealogy.com/arkansas/arctymap.htm

In 1868, Mary met her future husband, probably in Benton County, Arkansas. John Hammack Carl (sometimes spelled Hammock but family Bible records say Hammack) was born on 5 Apr 1847 in Benton County. He was the son of Thomas Carl who had moved to Arkansas in 1838. Thomas Carl was born on 24 Mar 1802 in Dutchess County, New York. After moving to Tennessee and having a family with his first wife, he moved to Van Buren, Arkansas. After the death of his first wife in 1839, he sold his farm and moved to a place on Osage Creek, six miles south of Bentonville, Arkansas. It was here he met and married his second wife, Synthia W. Maxwell, John's mother, who was born on 6 Jan 1811. Benton County, founded in 1836 only two years before Thomas Carl arrived, was formed from Washington County. It is located in the northwest corner of Arkansas on the Ozark plateau and adjoins Oklahoma to the west and Missouri to the north. Bentonville is the county seat. It was named in honor of US Senator Thomas Hart Benton of Missouri, who was instrumental in helping the Arkansas Territory achieve statehood in 1836. Thomas Carl had been apprenticed in New York to a tailor who treated him badly. As soon as he learned how to make a suit of clothes, he ran away eventually making his way to Tennessee. Although he and most of his sons made their livings as farmers, one of his grandchildren remembered Thomas sitting on a table sewing. She also remembered he was small. Another family legend says that Thomas Carl made clothes for the Jesse James gang and that they would sleep in the barn when they came to get their garments! Synthia died on 21 Feb 1871 and Thomas died on 14 Jan 1891 near Decatur, Arkansas. Thomas and Synthia (sometimes spelled Cynthia, but her tombstone says Synthia) are buried at the Word Cemetery on Spavinaw Creek, Arkansas. The Carls were a prominent family in northwest Arkansas.
Thomas and Synthia Carl had seven children:
Nancy Jane Carl, b. 12 June 1840 m. Dennis Chastain
Sara Carl b. 15 May 1843 m. Jim Powell
Syble (or Sybel or Sible) Carl, b. 17 Feb 1845 d. in infancy
** John Hammack Carl, b. 5 April 1847 in Benton County m. Mary Elizabeth Swank
Zachary T. "Zack" Carl, b. 25 Nov 1848 d. in infancy
David Newton Carl, b. 17 Feb 1850. He lived for many years in Austin, Texas then moved to California and then back to Arkansas where he died on 5 Sep 1920. He had a son, Dennis Carl and a daughter, Myrtle V. Gage who both lived in Tucson at the time of his death.
Henry C. Carl, b. 17 Oct 1853 in Arkansas; m. Mary Ellen (Nellie) Word abt 1878; d. 1932 in Arkansas
PICTURE OF THOMAS AND SYNTHIA CARL AND HIS FIRST FAMILY
This is a picture of Thomas & Synthia Carl and Thomas' first family, his children by Nancy
Shed. Synthia died in 1871 so it had to be taken before that, but we don't know when or why - obviously a family reunion.


[Editor's note - A group of Carl researchers have now decided the Reunion photo is not of Thomas and Synthia before her death in 1871, but is actually of a Carl-Chastain reunion in 1890. The people identified so far are, front row seated: Jessie Jenkins Carl, Thomas R. Carl Jr, Manson Augustus Carl, James Harvey Carl, Dennis Gaddis Chastain, Nancy Jane Carl Chastain, Sara Carl Keith, Henry Clay Carl.

John had half siblings from his father Thomas Carl's first marriage to Nancy Shed, b. 24 Nov 1804, d. 1839 in Mulberry, Arkansas. Some of this information came from Barton Carl's granddaughter, Mildred Jackson from Denver, Colorado and Dr. Caldeen Gunter of Siloam Springs, Arkansas.
Elizabeth Ann Carl, b.12 July 1824 in Franklin, Tenn, m. James Nathanial Marrs Jan 1840 in Arkansas, moved to Texas in 1861, d. 20 Feb 1895 or 96. Elizabeth and James are buried in Florence, Texas.
James Harvey Carl, b. 24 Aug 1826 in Tenn, d. 15 Aug 1911. His father bound him out to a farmer in Washington County, Arkansas but he wasn't treated well and came home. His wife was Elrena b. 22 Oct 1833, d. 14 Sept 1914
William S. Carl, b. 16 Aug 1828. He was on one list of children, but not on others. Perhaps he died young.
Manson Augustus Carl, b. 7 Aug 1830 in Tenn, d. 27 Dec 1912. His wife was Mahala, b. 1 Feb 1836, d. 26 June 1915. He and Mahala lost four children to an epidemic in 1861.
Barton Arnold Carl, b. 12 Sept 1832 in Coffee County, Tennessee, m. Sarah S. Parks 20 Jan 1857. He went to the California Gold Rush then returned to live in Prairie Grove, Arkansas and was a Confederate soldier in the Civil War. He and Sarah had eight children. He is buried in Prairie Grove.
Thomas Robert Carl, Jr. b. 7 Oct 1834 in Alabama; d. 19 Feb 1917. m (1) Mary A. King and had three children: S.T., Carl, and Margaret (Mitchell); m. (2) Kate McPhail and had four children: G.D., W.L., Mabel, and A.H. He also fought in the Civil War.
Jessie Jenkins Carl, b. 17 Apr 1837 on a visit back to Tenn. He married a Josephine Roundtree. He lived near Bloomfield, Arkansas.
MAP OF ARKANSAS SHOWING BENTON COUNTY
This is a map of NW Arkansas that shows where Bentonville, Mayville, Decatur and Prairie Grove are. I underlined the names in yellow.

John and his blended family lived on farms in several areas of northwest Arkansas near Bentonville and after the Civil War, on a farm on Spavinaw Creek, eleven miles from Maysville, just east of the Oklahoma state line. According to one of John's grandsons, at the beginning of the Civil War several of his older half brothers had joined the conflict but John was too young. John's mother wanted to keep him safe at home and insisted he hide in a wood pile when some Northern soldiers came by asking if any young men were around. His mother told the soldiers there weren't any young men around, but they searched the area anyway and fired into their wood pile, hitting John three times in the chest. The miniballs lodged in his back, but he survived. Either because of this assault and/or because he became old enough to join, from notes he himself made, in September 1863, at the age of 16, John enlisted in Company B, Browns Battalion, Confederate Cavalry where he served until September 1864. He was then transferred to Company H, 17th Arkansas Cavalry and served until May 1865 when he was paroled at Jackson, Mississippi. His name didn't appear in the official Confederate records, but it was on a list of prisoners of war after the conflict was over. Whether he got them in a wood pile or in battle, he carried those three miniballs in his body until the end of his life. John married Mary Elizabeth Swank on 5 Sept 1869. He was 22 and she was not yet 16. They lived with his father, Thomas Carl, for a while after the death of Thomas' wife Synthia in 1871. The 1880 census listed Mary E. Carl and her six children as living in Wallace Township, Benton County, Arkansas. John was not listed, but this might be when he joined Mary's parents in their trek to the Colorado gold fields. According to Mary, he loaded two wagons with Arkansas apples which were known to be selling at high prices among the miners. He didn't stay long and soon rejoined his family.
PICTURE OF MARY ELIZABETH SWANK AND JOHN H. CARL ON THEIR WEDDING DAY
In a letter Newt Carl wrote his mother, Mary on 14 March 1949, he reminisced about his youth in Arkansas. He told of eating redbud blooms that grew in the woods near their home. He remembered they had a seven acre orchard (probably where the Arkansas apples came from) and that there were strawberries back of his 'Grandpap's' orchard and hucleberriry [sic] bushes at the back side of the farm. He said, "The neighbor boys are probably grabbing suckers in Spavinaw as Uncle Newt and Henry [Carl] did in the days when both orchards were young. It was about Easter time when you made suits out of yellow shambrie [chambray is a finely woven cotton, usually with white and another color] for Tom and I, and we all rode up to Bethel for Easter services and dinner on the ground. I remember that the women asked if Tom and I were twins... memory is like sweet incense."
ORIGINAL PAGES FROM THE CARL FAMILY BIBLE
The first page lists births; the second page lists marriages.

Mary and John had eight children, the last born in 1884. On 20 Oct 1885, they left Arkansas for Texas. In a letter Newt wrote to his sister, Ella Wideman on 4 Sept 1952, he said "Our parents and all the children left on a cold frosty morning, the farm of Uncle Jim Carl's, situated two miles from Siloam Springs, Benton County, Arkansas. The whole family and such household goods as could be put in two wagons were loaded and four fine horses hitched to them. The object of the 'exodus' was Texas. Our father drove one of these fine teams and the writer (Newt) drove the other team. I do not remember what date we landed in Texas, but I do remember that we reached Austin, Texas Dec. 11, 1885. We crossed the Colorado River that night and camped on the sand bar. Dec 12, we camped near Bluff Springs, Texas and the next day we moved into a small house in a pasture adjoining that of Uncle Billy Swank." They lived there for several years and the children attended Pleasant Hill School. (Mary's oldest brother, William ('Uncle Billy') was eventually murdered by a Baptist preacher according to an entry in the family Bible!) John worked as a farmer, moving several times where he could find work. In a letter J.F. Carl wrote his brother Ed in 1954, he talked about their family's early days in Texas. "In 1886 we made crop out on the prairie; in 1887 (dryest year on record) we farmed a part of Uncle Billie Swank's farm; in 1888, we went back to the Cherokee Nation (Oklahoma) and worked at a saw mill. In the late spring of 1888, we came back to Travis County and picked cotton" John, Mary and their family lived west of Pleasant Hill School south of Austin until most of their children were married. They then moved to Corsicana, to Dallas then back to Austin in 1911 where John and Mary had a house across the street from Brackenridge Hospital near the State Capitol. He joined the State Capitol Police force where he was in charge of the guards on the Capitol grounds, a position created for elderly Confederate veterans. When John's health failed in 1919, they moved in with their newly divorced son, Edward and his two children in San Antonio. John died in San Antonio on 5 Dec 1919 from cholecystitis. (Cholecystitis is an inflammation of the gallbladder caused by obstruction of the cystic duct, usually due to a gallstone.) Because of his service in the Civil War, his widow received a pension the rest of her life. (Confederate Pension Warrant No. 101715.) His funeral expenses totaled $220.80 ($2,291.67 in 2002 dollars). John was a Mason, a member of Onion Creek Lodge, No. 220 in Travis County, and a member of Prospect Hill Methodist Church where his son, Newt, was pastor.
PICTURE OF MARY ELIZABETH, JOHN H. CARL AND THEIR CHILDREN
Judging from Loney, the youngest's b. 1884, age, this photograph was probably taken around 1888. Standing from left to right: Ella, Frank, Tom, Newt and Den. Sitting Ed (my grandfather), John, Loney, Mary and Dave. The original of this group photo belonged to Fred Carl. I hope his daughter inherited it at his death and is safeguarding it.

According to her grandson, Edward Jr., after John's death, Mary, at the age of 65 'continued to care for my father and us children by doing the cooking, mending, housekeeping and washing for all of us. She was an amazing little woman. I thoroughly loved my Grandmother Carl's cooking. It was a'pinch of this and a pinch of that'. Her biscuits were big and fluffy. She used dried fruits to make tarts and diced bacon to make corn bread pone patties and mashed potatoes with onions to make potato patties. She was a devout Christian and a strict disciplinarian, in addition to being thrifty and frugal.' Her granddaughter-in-law, Mercy Carl, remembered Mary as being a skillful practitioner of reflexology, therapeutic foot massage. From her business card, Mary Carl was the proprietress of the Ladies Massage Parlors in Austin. (I'm sure it was very different from the massage parlors of our day.) An article ran on her when she was 87. In it she said she still liked to crochet and embroider and could do it without glasses. She admitted to wearing glasses, but only at baseball games and to see things far away. At that time she'd lived in San Antonio for 21 years and was quoted as saying she liked the town, the climate and 'just about everything.' According to two of her grandsons, Mary was tiny. She probably didn't weigh 75 pounds, but she was as 'tough as a boot.' Fred Carl remembered her as being very quiet, not starting a conversation unless someone talked to her and that she was always frowning. With her long, hard life, she must not have had a lot to smile about. Mary died in San Antonio on 24 Apr 1949 at the age of 95. According to her death certificate, her death was from a cerebro vascular accident (stroke) due to generalized arteriosclerosis and hypertensive heart disease. She was buried next to her husband in the Mission Burial Park in San Antonio. A newspaper article on her death noted that she had broken her leg in 1947 and had been unable to walk since that time. It also noted she had 35 grandchildren, 49 great grandchildren and one great great grandson. A notice about her funeral said she had 32 grandchildren and 30 great grandchildren. (I can't say which numbers are correct until I track down the names of all her descendants alive at that time.)
PICTURE OF MARY AND JOHN CARL OLDER
Since John died in Dec 1919 this photograph had to have been taken before that. The photograph backing card says Muskogee. JF Carl had said in a letter the family went back to the Cherokee Nation in 1888 to work in a saw mill, but that seems too early for this picture since John and Mary look quite a bit older here than in the group photo above which I know had to have been taken around 1888.

According to my father's files, the children of Mary Elizabeth Swank and John H. Carl were:
William Newton Carl (24 July 1870 - 26 Apr 1960 )
Thomas Robert Carl (7 Oct 1872 -15 Jul 1964)
John Franklin Carl (11 Dec 1873 - )
David Hervey Carl (18 Aug 1875 - Jan 1967)
Henry Samuel "Den" Carl (30 July 1877 - 15 Apr 1966)
Sarah Ellen "Ella" Carl (14 Mar 1879 - 15 Jul 1970 )
** Edward Miller Carl (25 Dec 1881 - 8 Jul 1956)
Loney Lee Carl (16 Sep 1884 - 12 Feb 1919)
William Newton "Newt" Carl was born on 24 July 1870 near Maysville in Benton County, Arkansas about 8 miles from Maysville on Spavinaw Creek. His family for generations had been Methodists. Newt joined the Methodist Church, South, in 1892. He moved to Austin, Texas with his parents and preached in the Methodist Church in Bastrop. According to his nephew, Ed Carl, Jr., Newt graduated from the seminary of Southwestern University. He also graduated from Dr. David Swank's School of Pantherapy and Osteopathology in 1902. (Family lore says that Mary Elizabeth was taught 'homeopathic medicine' by her father, so it was probably Newt's grandfather's school.) He then studied law under Sanbourn and Shelton of Austin and was granted a permanent license to practice in all the courts of Texas and did practice for a while. Newt eventually became the pastor of the Prospect Hill Methodist Church in San Antonio. He met Marcia Bonner [not Bouner] who was born 10 Dec 1874 about 10 miles south of Austin, Travis County, Texas. Marcia was the daughter of John C. and Laura McKinney Bonner and the sister of Lucy Bonner who became Dave Carl's wife. Newt and Marcia married on 28 Dec 1893 at Manchaca, Texas. They had 10 children and from the cities of their birth, the Rev. Newt Carl, his wife and family moved around a lot, not unusual for a preacher. The Rev. W. N. Carl was living in Houston at the time of his brother Ed's death in 1956. In her later years Marcia suffered from macular degeneration, as did her daughter Eunice and Eunice's son Tim Word.
In a letter my father wrote to distant cousin/genealogist Rea Jameson in 1979, he said, "I first had an opportunity to meet and know our cousins, the children of our Uncle Newt, who was then Pastor of the Prospect Hill Methodist Church. I have not seen any of them, much, in many years, but I still have vivid memories of how lovely and beautiful was Hope, as well as her other sisters. I have never been able to understand how Uncle Newt, on a miserly Pastor's salary, could have given each of his 7 daughters at least 2 years of college and to have put each of his three sons, Noble, Bryan and Emory through the University of Texas. That was a tremendous accomplishment and all of his children later did very well for themselves." According to Newt's grandson Tim Word, the credit for educating the family has to be split between the parents and the older daughters who became the surrogate mothers and helped educate the younger children. According to Newt's son Bryan, his father had a wonderful voice and could reach the back pew of whatever church in which he preached without any trouble. Bryan admitted, though, that it was hard being one of ten children of a preacher; he never had a bicycle of his own and envied his cousin Eddie Carl who did have one.

According to Catherine Wakelyn, Emory's daughter, the photo above is of Newt's children. "The black and white photo I know less about. My cousin Aggie Ussery developed a picture of the Carl sisters that was taken on the same day, from an old negative she found among her motherÕs possessions. Caddie told her that it was taken at the Del Rio waterworks in 1924. My guess is that it was taken by Agness (see the shadow) because she isnÕt in the picture, although Edith was more commonly the family photographer. The sisters in that picture (left to right) are Caddie, Edith, Hope, Gen, Eunice and Vivian. The men in the black and white photo are more of a mystery. The fellow wearing the glasses and the newsboy cap must be Noble. This person looks more like my dad, but my father would have been only 10 in 1924. Buddy (Bryan) would have been 14, but this person looks bigger. The fellow next to Vivian is probably her husband Dan. The dressed-up dude with the black hat and tie could be AggieÕs husband Floyd."


Newt and Marcia Carl's ten children were:
Vivian Dorothy Carl, b. 11 Nov 1894, Travis County, Texas m. Daniel J. Scruggs. Mr. Scruggs was a veteran of WWI and worked as a foreman in a mill in Alice, Texas. Vivian and Daniel had three children: June who was hurt in an accident and never married, Marcia and Mary Agnes whose nickname was 'Wan.' Vivian Scruggs died in Alice on 26 Oct 1978. According to Catherine Carl Wakelyn, "Vivian was the oldest child Š old enough to be my fatherÕs mother, since she was born in 1894 and he in 1914. My father was born in Alice, Texas, where Vivian lived all of her adult life, as far as I know. Her husband, Dan Scruggs, was (so IÕm told) a ŅhenchmanÓ of George Parr, the political boss of Duval County. There were rumors Lyndon Johnson won his first election to the U.S. Senate by a narrow margin of votes cast under suspicious circumstances in Duval County. That supposedly was George ParrÕs handiwork.

Vivian had three daughters: June, Marcia and Mary Agness. June never married, and I believe that she always lived with her parents (and her mother after her father died). She was quite lovely and reminded me of Snow White, with her very black hair and very white skin.

Marcia, VivianÕs second daughter, married T.J. Pfeil, who was from Beeville, I think. They had two children, both adopted: Tommy and Ann. Both Marcia and T.J. are dead, but my mother mentioned getting a Christmas card from TommyÕs family in 2007 and was distressed to learn that he hadnÕt been informed of my fatherÕs death.

Mary Agness, VivianÕs youngest daughter, was quite glamorous. I remember being present at her wedding at my grandparentsÕ home on Wichita Street in Houston. Her husbandÕs name was Franklin Ussery. He was very handsome and drove a Cadillac. (Sorry but this is what children remember!) Mary Agness and Franklin adopted 2 children, Steven and Elizabeth, and I think they divorced in the 1970s.

Mary Agness and Liz stayed with me when they came to Washington in the spring of 1991, but I lost touch with her several years ago. I tried to contact her when my mother died and called several numbers of people named Ussery in San Antonio where she was living, without success. Tim Word told me that he too had been unable to locate her but had been told that she has AlzheimerÕs and is in a nursing home.

Ironically, Mary Agness was the family member who was most interested in genealogy Š I think because her son Steve married a Mormon woman. In some of the last correspondence I had with her, she said that she was making fresh prints of old family photographs. She sent me one of NewtÕs daughters that was taken sometime in the 1920s."


Marcia Edith Carl, b.11 July 1896, Travis County, Texas. She married and homesteaded in Jackson Hole Wyoming, but after her home burned, she left her husband and returned to Houston. She then married John Paul (a file note says John Bell) Goodwin. According to Tim Word, Goodwin was in advertising. He had originally trained for the ministry but a drinking problem derailed that plan. He had a wonderful voice and often did ads on radio. He and Marcia didn't have any children. According to Catherine, "ŅEdie,Ó as I knew her, was probably the most talented of my aunts. Her photography was up to professional standards, and she was the sort of seamstress who could make almost anything from anything. My father told me that she once took apart a suit of her husbandÕs that was worn in places, recut it, and made a garment for herself. When I was a teenager, I was the beneficiary of several garments she had ostensibly made for herself and then decided they didnÕt look good on her. She also was the designated cook/victim for my cousinsÕ hunting adventures Š meaning that she was the one who got to skin the deer and pluck the birds and figure out how to cook them! Her cooking was terrific.

Edie was married three times, not twice. IÕve forgotten the name of the first husband, but it ended in a ŅyÓ (maybe Tommy). My father said he felt sorry for him because he was nice enough but not exciting enough for Edie, who left him to marry Gus. In their social milieu, this was a minor scandal. Gus was the cowboy with the ranch in Wyoming. IÕve seen pictures of him (probably taken by Edie), and he was dashing in a Gary Cooper sort of way. The story I heard was that Gus left Edie stranded in Wyoming with a broken leg, and Noble had to get her and bring her home.

John Paul Goodwin, her third husband, was handsome and similarly talented. He was from Shreveport, LA and was about 10 years younger than Edith. He was an alcoholic, but he (mostly) stopped drinking after a major heart attack. He and Edie were part owners of the radio station KXYZ in Houston and among the original owners of the broadcast television station KTRK. John Paul was also the senior partner in the largest advertising firm in Houston when I was growing up there in the 1950s and early 1960s. At some point in his career, he was a member of the acting company at the Alley Theater in Houston Š a prestigious venue even in the 1940s and 1950s and more so later.

Both Edie and John Paul were very ill for the last years of their lives. Edie had dementia of one sort or another and moved to Lake Jackson, either late in John PaulÕs life or shortly after he died. After John PaulÕs death, she was cared for by NobleÕs son Tom, who inherited what was left when she died. The Goodwins always lived large.


Agness Angela "Aggie" Carl, b. 22 Nov 1898, Travis County, Texas m. 1) Floyd B. Forrest 2) James M. Watson. The 1930 census for San Antonio lists Agnes Forrest, age 30 and her husband Floyd B. Forrest, age 37. The census also noted she was a stenographer in a shoe store and he was a credit manager in a jewelry store (perhaps Carl Gildemeister's store?) and a WWI veteran. They had no children, but his two brothers and a sister lived with them at that time. Mrs. Forrest was an attendant at the wedding of J.F. Carl's daughter, Alma. Agnes later married James Watson but they also had no children. According to her nephew, Tim Word, she was very sweet and he named his second son Forrest after his uncle.


According to Catherine, "For me, Aggie was the classic Auntie Mame kind of aunt. She always came armed with presents and an opportunity to have a good time. At one point she lived in the Menger Hotel in San Antonio for about 20 years. When we went to visit, we could call room service and order whatever we pleased. She also slept on satin sheets and had fabulous jewelry and a never-ending wardrobe. She smoked incessantly, and emphysema caused her to be the first of NewtÕs children to die, in 1977.

I never knew Floyd, AggieÕs first husband, but there is an odd family overlap with my motherÕs family. FloydÕs brother Jack Forrest was married to my motherÕs first cousin Catherine Austin for a number of years. Catherine was my motherÕs only first cousin on her motherÕs side. I remember being told that FloydÕs other brother, Dean Forrest, dated my aunt Gen for an extended period, but she wouldnÕt consider marriage because he was Ņpoor husband materialÓ (probably meaning that he didnÕt make enough money).

AggieÕs second husband, McCord Watson, was old enough to be her father. He owned a chain of shoe stores in San Antonio called the Guarantee Shoe Company, and Aggie worked for him. When Mr. WatsonÕs first wife died, Aggie and Floyd felt sorry for him. They referred to him as ŅJuniorÓ and began including them in all of their family activities. When invited to a party, they would ask, ŅCan we bring Junior?Ó It started as a joke, but eventually he even moved in with them. After Floyd died very suddenly, Mr. Watson moved out to preserve appearances, but in fairly short order my father speculated, ŅI actually think AggieÕs going to marry that old man.Ó [All of this story was told to me by my father; IÕm not even sure I was born at the time.]

I never heard Mr. Watson called anything but ŅJunior.Ó My father said that when he and Aggie married, he was down on his luck financially, but after they married, his business really took off. He died a relatively wealthy man, after several years of illness. As I think I mentioned before, I believe that the group picture that was taken of ŅNewtÕs kidsÓ in 1954 was taken at the cemetery after JuniorÕs burial."

According to Catherine Carl Wakelyn, "The original of the color photograph was stamped on the back as having been developed by Eastman Kodak during the week of November 29, 1954. I seem to remember (from seeing a similar picture in an album of my parents) that it was taken after the funeral of AgnessÕ husband, McCord Watson, which was prbably earlier in the year, judging from the foliage. In that photograph, the ŅkidsÓ are lined up by age, with Caddie, the youngest, on the far left." That would mean the people in the photo from left to right are Mable Frances "Caddie", Emory Temple, Bryan 'Bud' Hunt, Hope 'Sissy', William Noble, Eunice Georgia, Geneva Joyce, Agness Angela 'Aggie', Marcia Edith and Vivian Dorothy Carl, the 10 children of Newt and Marcia Carl.

Geneva Joyce Carl, b. 12 Feb 1901, Travis County, Texas. In the 1930 census, Geneva and Hope Carl were listed as teachers in Houston and lodgers with a Mr. William Whistler who worked oil leases and whose wife ran the boarding house. According to her nephew Tim Word, Geneva had a Masters degree and was a teacher and a principal. Bryan Carl said his sister Geneva was still driving in Houston at the age of 89. The SSDI says a Geneva Carl died in Nov 1991. The Texas death index says a Geneva L. Carl died on 4 Nov 1991 in Harris County, i.e. Houston. The record mis-read her middle initial which was a J.


According to Catherine, "ŅGen,Ó as we all called her, never married. She was diagnosed with acute leukemia and given 6 weeks to live in 1979 and died 4 Nov 1991. My father said that she outlived three of her doctors. He also said that the last one committed suicide, a bit of information that was kept from her, lest she get depressed. I think my daughter Meredith best put her finger on the secret of GenÕs longevity and what endeared her to others. Coming back from a sleepover at GenÕs when she was 10 or 11, Meredith said, ŅThe fun thing about Gen is that sheÕs whatever age you are, and sheÕs interested in everything you do.Ó

Gen lived with my grandparents from the time they moved to Houston until my grandmother died in 1953. Sometime later, she moved with my grandfather to a big old farmhouse in Alief. Alief, which has now been mostly absorbed into metropolitan Houston, was then in the western boondocks of the city, but everyone continued to spend weekends there, visiting with extended family, until my grandfather died in the spring of 1960. Gen then moved back to the city and lived in a succession of houses and apartments until she died. She lived by herself, but there was always another sister nearby Š usually Hope, but Aggie also moved to an apartment in Houston near GenÕs for the last few years of her life.

Gen taught school as a young woman, but from the time I can first remember, she was always an elementary school principal Š first at Memorial Elementary, then Sutton (where I went to school until the fourth grade, but she went there after I left), and finally Pilgrim Elementary, where she remained until she retired. She worked well into her 70s. Gen was attractive, something of a spendthrift and a good athlete. My father took a home movie at one family gathering that included her playing softball with my cousins Fred and Bob. She was wearing a knit halter top sun dress and high heeled shoes and had a gardenia tucked behind one ear!"


Eunice Georgia Carl, b. 19 Jun 1903, Georgetown, Texas had two years of college and married Dean Word on 2 Oct 1925. His family was from Tennessee. He was an innovator in the road and highway construction business. Eunice and Dean had three children, the youngest, Amber Colleen died in infancy. Their son, Tim Dean Word and his three sons are all managers for the family company based in New Braunfels, Texas. Their daughter, Joyce Word married attorney William "Bill" Borchers, b. 1923 who graduated from Texas A & M University, received his JD from Baylor University, was admitted to the bar in 1954 and is still practicing law at the age of 80. (He commented, "If I keep practicing, I'm bound to get it right eventually!") Joyce and Bill had two daughters and four granddaughters. Eunice Carl Word died on 22 Jul 1987. Joyce Word Borchers died 1 Mar 1991. According to Tim Word, Eunice and Dean were devoted to each other and had a very good marriage. They, along with Noble and Emory were probably the most successful and affluent of Newt's children and were generous in helping other members of their close, loving family.


According to Catherine, "I once heard Eunice say that she had gained and lost 2,000 pounds during her life, but they had always been the same 20 pounds. She was quite lovely in her own way, but I think she sometimes suffered by comparison with Aggie and Gen. I also heard (probably from my father) that her sisters had made fun of Dean Word when he and Eunice first married because he wasnÕt very stylish or sophisticated. But of all of NewtÕs kids and their families, his business was the biggest success story and remains so to this day. Because of her husbandÕs business, Eunice was always socially important in San Antonio, which I perceived as being more socially stratified a city than Houston. She had a grand home to match and was an accomplished gardener.

Tim Word (full name Timothy Dean Word, Jr.) inherited his fatherÕs construction company and runs it with three of his sons, Dean, Forrest and Bryan. He also has a son named Patrick who, for some reason unknown to me, is rarely mentioned. TimÕs daughter Amber was born in August 1968 and married Eric Hauser in a fancy San Antonio wedding in May 2008. Their daughter Adelaide was born in June 2009. Eric is in the movie business, and they live in southern California.

Tim and his family are socially prominent in San Antonio. He married Suzanne Zachry, whose father was equally as prominent in the central Texas road-building business as Dean Word. I was a teenager when they married and remember Tonka trucks and earth-moving equipment on the wedding cakes. Tim was king of the San Antonio Fiesta celebration one year (itÕs sort of like Mardi Gras, but at a different time of year) and did a stint as the president of the national association of road contractors. For all that, heÕs remarkably unassuming and down-to-earth.

Joyce Word, Eunice and DeanÕs daughter, married William Henry Borchers of Yoakum in the summer of 1956. Their daughter, Mary Marcia, was born the following year, and they later adopted a second daughter, Georgia Bonner (ŅBonnieÓ). Marcia married her childhood sweetheart, Forrest McGlothlin, and still lives in New Braunfels, where she grew up. She has two daughters, Catherine Amber (born around 1984) and Bonnie. Amber is married, and Bonnie is a recent graduate of TCU, I believe.

As I recall, Bonnie Borchers has an accounting degree and at some point worked for one of the big eight accounting firms. She has been married a couple of times, but I donÕt know whether she has any children. I believe her husbandÕs surname is Deutra." [Editor's note: His full name is Andrew 'Andy' Werner Duettra. Bonnie and Andy have two daughters, Sydney Walsh, b. 1995 and Hannah Carl, b. 1997. The latter preserves the ancestral Carl name.]

Newt Carl, Ed Carl, Sr and Noble Carl
William Noble Carl, b. 2 Dec 1905, Navarro County, Texas m. Wilminor (sometimes spelled Willmena) Morris on 31 July 1929. As a boy, Noble could play a good joke. Bryan remembered the time Noble stuffed some clothes and made a dummy man that he put up in a tree during one of his father's prayer meetings, When the people left, he dropped the ļman' from a rope out of the tree while making a loud moaning sound. Two ladies fainted at the sight and Noble got into big trouble! Noble and his wife both graduated from the University of Texas Law School. He was a Naval officer during WWII during which time she ran the law practice. She was Baptist so Noble joined that denomination, breaking with his Methodist roots. He and his brother Emory were law partners. Noble was more flamboyant and aggressive. He became a successful attorney and bought the home in Houston formerly owned by Gov. Ross Sterling. They had four children, Wilminor, Mary, Willie and Tom. Noble retired in 1960 and moved to Sugarland, Texas in 1978. Near the end of his life, he lost sight in one eye. He said his father and four of his sisters had the same thing happen. Near the end of his life, his brother Tommy was concerned about him. He seemed to be depressed and was drinking. He died in Houston 9 Aug 1991.


According to Catherine, "Noble was probably the most flamboyant of NewtÕs kids. IÕd be surprised if he didnÕt have a bipolar disorder. His life was punctuated by a series of grand schemes, some of which even worked out! A typical one that I heard of was that during the Cuban missile crisis of 1962, Noble decided to stock up on canned chili and baked beans. He and my father owned farmland in Hempstead, TX, which is about 40 miles west of Houston. The property included a couple of primitive structures, only one of which had any plumbing. Noble decided that in the event of a missile attack, the family should retreat to Hempstead, where they would live on chili, beans and bottled water until the crisis passed.

About a month after Noble died, I sent his widow, my aunt Wilminor, a dozen long-stemmed red roses. She later told me that the first time Noble ever took her out, he brought her a dozen long-stemmed red roses. She later found out that he had pawned his winter overcoat to buy the flowers. Wilminor Morris Carl, NobleÕs widow, is still alive, at age 104 or 105, and lives in a nursing home in Houston. She met Noble when both were in law school, and she practiced law with him for a time. Her family comes from Galveston and is legendary there, although IÕve never heard those particular stories.

In retrospect, I marvel at my fatherÕs ability to be in business with his brother for so many years. Noble would periodically be despondent about the future of the business and convinced that it should be scrapped, only to come up with a wild expansion scheme the next week or month. I can only suppose that, over time, my uncleÕs mood swings became fairly predictable, and my father was able to persuade him to avoid taking any action precipitously.

Noble and Wilminor had four children. Wilminor, called ŅMinie,Ó first married a Houston lawyer named John Russell. They had two sons, John and Will, both adopted. Both are married and in their 40s and currently living in Houston. Minie and John Russell divorced, and he died within the last couple of years. MinieÕs second husband, Bob Gardner, is someone she married 10 or so years ago. HeÕs in his mid-80s, I think. They live part of the year at Hempstead (in a much-improved house with plumbing and all of the other modern conveniences) and the rest of the year in New Mexico.

Mary, NobleÕs second child, married Jack Briner, who died in 1987. They had one son, Jack Vedder Briner, Jr., who was probably born in 1961. I am told that Mary had throat cancer and is barely alive at this point.

William Noble Carl, Jr. (ŅWillieÓ) is about 72 at this point. He has carried on his fatherÕs entrepreneurial spirit and thirst for life lived large. At various times, Willie has been in the real estate business, the construction business and the savings and loan business. He owned a S&L that was hit by the crisis in the late 1980s. In one conversation I had with him at the time, he talked about his bankruptcy, and I asked him about his future plans. His reply was something along the lines of ŅI can hardly wait to start over and try to do it all again.Ó When Houston was building its light rail system for downtown, Willie didnÕt bid on the construction; he bid on the Porta-Potty contract. I donÕt know whether he won it, but I think his firm built the house that George and Barbara Bush are currently living in.

Willie married Lucy Reinking of Dallas in the early 1960s. They have two sons, Noble and Paul, both of whom are married with children and living in Houston. Noble and Paul are extraordinarily handsome and, like their father, very hard-working. As an example, Willie, Noble and Paul at one time had a trucking business. They needed to employ people to maintain and repair the trucks, but the employee pool was mostly Spanish-speaking. So the three of them went to Mexico and took a crash course in Spanish.

Noble and WilminorÕs youngest child, Thomas Stewart Carl, was born in October 1940 and died around 2001. He lived in the shadow of his brother and sisters most of his life and inherited his fatherÕs emotional instability. (At one time he boasted that he carried a card certifying that he was crazy, having been institutionalized a couple of times.) Tom did, like his father, get a law degree. He was married twice but never had children. I never met the first wife or even heard her name, but his second wife, Ann, was truly lovely. She was a school teacher."

Hope "Sissy" Carl,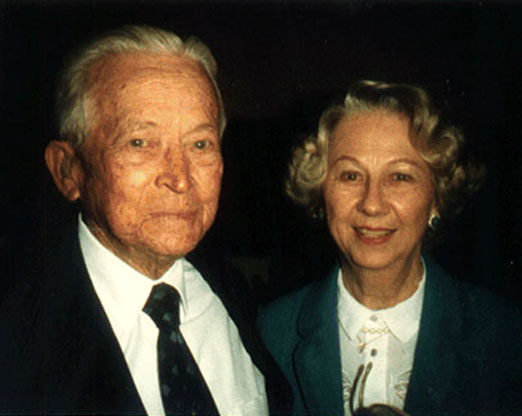 Bud and Nathalie Carl

Bryan "Bud" Hunt Carl, b. 17 Sept 1910, Pleasenton, Texas. Because his father was a preacher and moved around a lot, Bryan went to three grade schools and three high schools. When the family moved to Gonzalez, he began taking Spanish, then they moved to Yoakum to a school that only offered Latin, then they moved to Del Rio and he was able to again study Spanish. He graduated from high school in Del Rio. He graduated from the University of Texas and attended law school but the pressure of having to support himself during the Depression became too much and he dropped out. He then went to work for his brother-in-law, Dean Word in his road building company. He started in 1932 and except when he served as a naval officer in WWII, he stayed with the company until 1995. He married his first wife, Nola Mai Weaver, a lovely redhead, in 1936. She died from breast cancer in 1970. (There is a Nola Mai Carl listed in the Texas death index as dying single in Comal County 11 July 1968.) He then married his second wife, Nathalie (not Natalie). He died 9 Feb 1995 in New Braunfels. He and his first wife Nola had had a daughter, Patricia, who died in infancy. Their other daughter, Nola, died in 1996 also of breast cancer. She was married to Robert L. Patton. They had a son Bobbie and he has two children. Bryan's nephew, Tim Word, was very close to his uncle and named one of his sons Bryan to honor him.

According to Catherine, "My uncle Bud, sometimes called ŅBuddy,Ó was the closest of my fatherÕs siblings when they were growing up. They were less close as adults, not because of any falling-out but because they were engaged in different work in different places. I believe that Bud got an engineering degree. He worked for Dean Word, EuniceÕs husband, his entire career and was successful in business, although I think he tended to compare himself to his older brother Noble and to Dean, both of whom were sort of in a class by themselves.

BudÕs first wife, Nola Mai, was a beautiful, elegant woman. I gather that she had grown up in relative poverty. Bud supported her mother and her sister from the time he and Nola Mai married until their deaths. Nola Mai died in June 1969, of complications from breast cancer. Bud remarried a woman named Nathalie (I never have heard her former husbandÕs name) in about 1980. She is 95 and still in relatively good health, living in the family home in New Braunfels, TX. She and my mother remained in touch on a monthly basis until my motherÕs death, and I try to call her several times a year.

Bud and Nola MaiÕs only child, Nola, was born in September 1942. She married Robert Lee Patton in about 1962. They divorced 7 or 8 years later, and she married Dustin Payne. Nola died, as did her mother, from complications from breast cancer, in June 1995. She had one son from her first marriage. Bobby Patton is about 47 years old. He is a lawyer and lives in Fort Worth, TX, as does his stepfather, who has remarried."


Emory Temple "Unk" Carl, b. 27 Feb 1914, Alice, Texas m. Margaret Elkins. According to his brother, Bryan, Unk was really nice and never caused any trouble, unlike Bryan who said he deserved every switching he got! Bryan said his brother was slow physically but was very smart. According to his nephew, Tim Word, Emory was one of those people who would 'think twice and speak once and always be right.' He worked his way through university and law school and was a law partner with his brother Noble. Emory was not as flamboyant as his brother, but he was probably the better attorney. He was also a pillar of the Methodist church in Houston and, like his two brothers, served as a naval officer in WWII. Emory T. Carl died on 28 Jun 2002 in Bellaire, Harris County, Texas. Emory and Margaret had two daughters, Catherine and Elizabeth. Catherine is the source of the information and photos of Newt's family.


According to Catherine, "Emory Temple Carl, my father, was born 27 Feb 1914 in Alice, TX and died 28 June 2002 in Bellaire, where he and my mother had lived since March 1951. Newt lost all of his savings due to a bank failure during the Depression. My dad had finished a semester of college at that point. The story that my father told us when we were growing up was that he asked his father for money to get back to Austin and said that if he could get back, he would work hard enough to earn the money to stay in school.

ThatÕs typical of how he lived his life. He worked two or three jobs simultaneously, including waiting tables at a boarding house in return for his own room and board, in order to get through school. He never got a BA but was able to begin law school after two years as an undergraduate. I think he got his law degree about 4 ½ years after he started college. He then worked in a private practice and was an assistant city attorney in Houston before the war. He met my mother when both were members of the bridal party at the wedding of one of my motherÕs childhood friends. As was typical of the times, they waited two or three years until they could afford to marry, on 16 October 1939.

My dad was the executive officer on a destroyer escort that participated in every major naval battle in the Pacific during the last 2 ½ years of WWII. Afterward, I think he viewed every day of his life as a gift, and he felt fortunate to plant himself in one place and stay. He and Noble were co-owners of a title company and partners in a small Houston law firm, from which he retired in 1977. He continued to do legal work for friends up until his death on 28 June 2002. He also did a lot of volunteer work, the most significant of which was probably helping to establish a day care center for AlzheimerÕs patients at St. LukeÕs Methodist Church, now named The Amazing Place.

Emory married my mother, Margaret Modena Elkins, 16 Oct 1939. They had two daughters: Catherine Marcia Carl, born 12 Dec 1942 in New Orleans and Elizabeth Louise, born 28 May 1947 in Houston. Margaret Carl died 30 Dec 2008 in Bellaire, TX."


Mable Frances "Caddy" Carl, b. Dec 1916, Floresville, Texas. She married Bert Bates who was an orphan and they had one son. Tim Word said the order of her name was Frances Mable and the 1930 census spelled it Mabel.


According to Catherine, "I never heard Frances called anything but ŅCaddie.Ó Supposedly the nickname arose because when she, the tenth child, was born, one of her older sisters (Aggie would be my guess) had a boyfriend who owned a Cadillac with a Number 10 license plate. The family was always creative with nicknames!

Caddie married Bert Hoxey Bates in 1938 or 1939, and they moved to a house in Bellaire that they continued to occupy until they had to move to an assisted living facility around 2000. Because our houses were only a mile apart, I saw a lot of Caddie while I was growing up, but I never felt as close to her as I did to Hope or Gen. She and Bert never had as much money as the other people in the family, but they were frugal. They lived well and were also very generous. Caddie died in June 2008.

Caddie and Bert had one son, named after his father but often called Bob, born 6 March 1943. Bob spent a long career as an environmental engineer for several energy companies and has now been retired for a year or two. He married Lou Anne Allen of Huntsville in December 1964, and they have three daughters. Amy, the youngest at 25 or 26, is a student at Sam Houston University. Laura and Lana, the older daughters, are very close in age and in their mid-30s. Laura married Blair Matthews in 1999 and lives in The Woodlands, TX with her husband and their son and daughter. Lana married Derek Frank almost exactly a year later. They live in San Antonio with a twin son and daughter born in January 2009 and an older son who is probably 4 by now."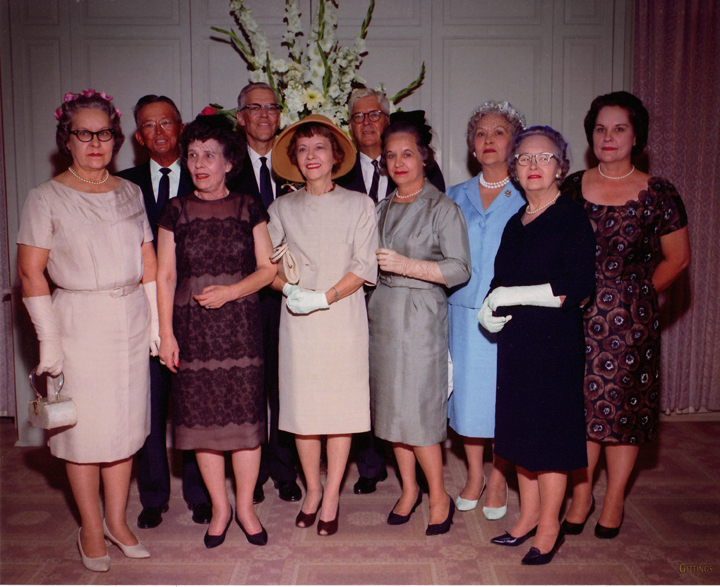 According to Catherine Carl Wakelyn, "Here is the picture of my father and his siblings. It was taken at my wedding on August 1, 1964 in Houston. I wanted it taken because I was fearful that this would be the last happy occasion that they were all together, which turned out to be true. In the front row: Hope, Agness, Edith, Gen, Vivian; in the back row, Bryan, Emory, Noble, Eunice, Frances."


WEDDING PICTURE TOM AND EVA CARL, TOM AND EVA AND THEIR FAMILY, THEIR HOUSE IN BURKBURNETT WITH THE OIL WELL IN THE YARD
Thomas "Tom" Robert Carl was born on 10 July 1872 near Maysville in Benton County, Arkansas. A family story says that on the way from Arkansas to Texas, his mother Mary was very ill (another story says pregnant, but if so, she lost the baby because none of her children were born in Texas as far as my records show). Tom had to lift her out of the covered wagon in which they traveled and put her on the ground so that she could tell him how to make their meals over an open fire. According to Fred Carl, one of Tom's sons, after the family settled near Austin, Tom was farmed out to a wealthy rancher for two years and the money he made paid the tuition for his brothers Newt and Frank, who had both graduated from high school, to attend the University of Texas. According to his nephew Bryan, Tom was a big man, probably six feet four inches tall. On 1 Jan 1902 in Corsicana, Texas, Tom married Mary Evaline "Eva" Blankinship, b. 15 July 1908. Again according to Fred, Tom made millions in the oil fields of Burkburnett, Texas. He even had an oil well in his back yard, but because of his reckless behavior, he lost his fortune and his wife had to sell the land her father had given her upon her marriage to pay off Tom's debts. Tom and his family lived in several cities including Corsicana, Burkburnett, Divine and San Antonio. He also had a farm in Corsicana and when his health began to fail, his son, Lee had to leave college to come home and run the farm. Tom died on 15 July 1964 in Corsicana and is buried at Rest Haven Cemetery on Highway 31 west of Corsicana. Eva died on 15 Jan 1972. They had four children:


PICTURE OF LEE, ELSIE, FRED AND TOMMY CARL; ELSIE CARL MCMANUS; ELSIE, CECIL AND CECIL LEE MCMANUS


Elsie Elizabeth Carl, b 28 Jun 1903, m. Cecil Lee McManus. Her family called her 'Sister.' She and her husband lived on ten acres next to her brother Lee Carl and his family. Cecil operated a poultry farm, raising baby chicks to frying hens. He processed the hens and sold them to markets. Elsie and Cecil had a son, Cecil Lee McManus. Elsie eventually got Parkinsons disease and was in a wheelchair. Her niece, Lauraette, Lee's daughter remembers going to her house on Saturday and washing and rolling Elsie's hair. 'She was very pretty and sweet. Sometimes she would pay me a quarter for fixing her hair. When her illness progressed, she was placed in a nursing home (Twilight Home - Tom and Eva as well as Lee were in this same home). Daddy went by each afternoon when he got off work to help feed her.' He was present when Elsie died, choking to death on the feeding tube they were trying to put in her throat. Because of that memory, Lee signed papers when he went into the home that he was not to be force fed or have any other aid in keeping him alive. Elsie died on 19 Dec 1972.


PICTURE OF TOMMY AND BETHEL CARL; LUANNE AND WANDA CARL


James Thomas "Tommie/Tommy" Carl, b. 4 Oct 1905, m. on 24 Apr 1925 Bethel (or Bet or Betty) Emma Cooke, b. 15 Jul 1908. He worked in the Mobil oil fields in Corsicana and later was a jailer for the City of Dallas. He was in the building when Jack Ruby shot Lee Harvey Oswald. He and his father both had blue eyes and a mole on their lip. He and Bethel had two daughters, Wanda who married William Pyburn, and Luanne who married William Charles Mills. When Tommy became ill, he moved to Corsicana and lived for a while with his brother and sister-in-law, Lee and Laura Carl. They found him an apartment and looked after him. The stress of his illness and his ill treatment of her over the years led Bethel to get a divorce after 50 years of marriage. When Tommy's health worsened, his daughter, Luanne transported him to Houston and cared for him until his death on 10 Jan 1993. Bethel C. Carl died 11 Jan 1994 in Houston.
PICTURE OF FRED & QUEENIE CARL AND FRED CARL IN MIDDLE AGE
Chester Fred Carl was born on 11 May 1909. Fred remembered living in Corsicana when his family had four property lots together. One had their house on it, another lot was reserved for their Jersey cow, another had a bakery on it, and another one had an oil well. In those days wells didn't have the valves they do today and their well would sometimes spew oil over the landscape, forcing the bakery to close. Fred quit school when he was a junior in high school and enrolled at the Rice Business School in law and contracts. At the age of 16 (or 17) he started with the Mobil Oil Company as an office boy and worked his way up through the accounting department to become the area manager of all purchases in the US. Fred married Queenie Viola Reese on 19 Jul 1929. She was born on 13 Feb 1908. Fred and Queenie had one daughter, Dorothy Ann. Fred spent 40 years with Mobil and then worked as a vice president for two small oil companies for four years until he finally retired. He lost his beloved wife to cancer after 53 years of marriage. Queenie died 24 Apr 1981. Fred's health began to decline and he went into a nursing home in Whitehall. According to the SSDI, his last residence was in McKinney, Texas. He died 20 Jun 1999.
Fred delighted in telling family stories, the juicier the better, but about one family member, he didn't have good things to say. Even at the age of 80, he still shook with rage when he talked about how mean and cruel his grandfather, John H. Carl was to him, yelling at him and calling him cruel names. After John died in San Antonio in December 1919, he was laid out on an ironing board between two chairs to be prepared for burial, as was customary at the time. Fred's father, Tom insisted Fred, who was 10 years old at the time, watch the embalming process. Years later Fred graphically described how the mortician found a vein in his grandfather's chest, pumped embalming fluid in and forced the blood out into a tub. That must have been gruesome enough, but Tom then insisted that Fred go touch the musket balls in John's back. It must have been a traumatic thing for a child to do, to touch his hated grandfather's dead body because he remembered it with horror his entire life. After telling this story, Fred commented that he was sure his wife and her parents were in heaven, but his father and grandfather were in the other place!
PICTURE OF FRED CARL AND THE AUTHOR IN 1989
Unfortunately, there seems to be a pattern of cruelty and insensitivity in some of the Carl men. Ed Carl, Sr. was divorced, according to the divorce decree, because of his cruelty as was Tommy Carl. John Carl was seemingly also cruel and Tom Carl showed a decided lack of sensitivity in forcing his son to touch his grandfather's dead body. Perhaps they were just men of their times or possibly they had a physical condition that contributed to their behavior. One of Tom's granddaughters has speculated that her father and grandfather might have had Graves' Disease, a thyroid condition that causes the swelling of eye muscles and other problems. She said both men had bad tempers and would fly into violent rages. When they were quite old, their eyes protruded and they both had to read with one eye covered. Both Noble and Fred Carl also lost their eyesight as they got older. One of John's grandsons commented that there seems to be two different body types among the Carl men. 'It seems to me that the short, fat Carls, like me were more placid. The taller, thin ones seemed to have the abrasive nature.' That pattern fits John, Tom, Tommy and Dave. It would be interesting to do a study to see if the pattern holds among other Carl men. Bryan Carl, Newt's son also commented on the two sizes of Carl men. 'Some of the Carl men were short, but they were as stout and sturdy as a gorilla!'
PICTURE OF LEE AND LAURA CARL; THEIR CHILDREN; TOM, EVA, LAURA AND OTHERS; AND TOM AND EVA WITH SOME OF THEIR GRANDCHILDREN

The group photo in front of the house is of Tom, Eva, Laura, Laura's children - Elsie and Robbie, and Laura's sisters. According to Wanda Carl Pyburn, in the picture of Tom and Eva with some of their grandchildren, the little girl is Luanne Carl, not Dorothy.

John Robert Lee Carl, b. 29 Nov 1910, married Laura Mae Nolan on 23 Sept 1934. Laura was born on 9 Nov 1914. Lee attended the University of Texas, working at a boarding house washing dishes and cleaning to pay for his room, board, tuition and books. Lee also ran track at UT. He was in his second year when his father became ill and Lee had to return to Corsicana to run his father's farm. Lee bought a 100 acre farm from his father and raised cotton, cattle and dairy cows. At the same time he worked as a 'pusher', a supervisor of oil field workers for Coffield & Gutherie Oil Company. When Lee got too old for that, he worked as a purchasing agent for the company that was eventually purchased by Sun Oil Company. He was also a lay minister in the Church of Christ. Lee and Laura had four children: Elsie Mae, John Robert Lee, Jr. or 'Robbie,' Teddy Marybelle and Lauraette. Teddy was retarded and was placed in a state school at the age of 10. Lee and his family moved from Corsicana to Austin so they could be close to Teddy before she was transferred to a facility in Mexia closer to her hometown. Living in Austin, Lee took the opportunity to again attend UT, this time taking classes in special education to help his daughter and to better understand her condition. They stayed a year, allowing him to get another year of college. It was not enough for him to graduate, but he was proud of the three years he did have. He and his family moved back to Corsicana and when he became ill, he lived in a nursing home there. He was 5 feet, 8 inches tall, just as his uncle, Ed Carl, Sr. and cousin, Ed Carl, Jr. were. He 'ate to live, not live to eat' and had to work to keep his weight up to 140 pounds. His wife, Laura died on 5 February 1996 of cancer and Lee died on 24 December 2002 from Parkinsons disease. They are both buried in the Oakwood Cemetery in Corsicana. Their son Robbie, b. 17 Oct 1938, died from kidney cancer on 12 June 1999. He was living in Murietta, California at the time of his death. His body was cremated and his ashes scattered from one of his favorite mountain areas.


In 2012, I received an email from a man who knows Teddy Carl. Herman said, "She is currently at Twilight Nursing Home in Corsicana, as her father was, I think you said on your page. She was friends with my grandmother, when my grandmother lived there, too. I love Teddy! She is somewhat off-beat (which you can see in the picture of her as a child that you have posted), but she is soooo lovable!"

PICTURE OF FRANK CARL AND LATER PICTURE OF JUDGE J. F. CARL
John Franklin Carl was born on 11 Dec 1873 in Bentonville, Benton County, Arkansas. Of Mary and John's eight children, Frank (and Newt) graduated from high school and college. In 1892, at the age of 18, Frank entered an oratorical contest and chose for his topic Contentment. We have a copy of his speech in which he contrasted the rich and powerful to the poor and humble and said contentment cannot be gained in war, ordered from a factory, bought like a horse or inherited, but could only be gained by practicing truth, honesty and self-reliance. He went on to say he 'would not surrender the peace and happiness that I enjoy in my humble country home with my father and mother, brothers and sisters, for all the fame of Caesar or wealth of Croesus.' Frank or J. F. went on to become an attorney, an Associate Justice of the Fourth Court of Civil Appeals in San Antonio, and secretary of the State Council of Defense during World War I. But on 1 Sept 1924 he disappeared while in Austin and was only found 10 months later. He was eventually adjudged to be insane and was committed to the state insane asylum. Considered a brilliant lawyer, all he could say about his disappearance was 'The lights went out and I don't know what happened then.' After spending time in the asylum, he returned to San Antonio and resumed his private law practice. Frank also owned an oil lease south of San Antonio and both his brothers Edward and Dave drilled wells there. Frank married Annie Wideman (the sister of George Wideman who married Frank's sister Ella.) According to the 1930 census, Frank was 22 and Annie was 18 when they married.. Mary Carl's death notice in 1949 said one of her survivors was J. F. Carl from Edinburg. Edinburg is the county seat of Hidalgo County in the Rio Grande Valley and is considered a 'gateway to Mexico.' Frank and his family obviously left San Antonio and moved there. It must have been very hard on the family to first think Frank was dead, then to have him, a formerly highly respected judge, turn up insane. It would be interesting to do an analysis of Frank's symptons with our current medical knowledge to theorize what caused his condition since he later recovered enough to leave the asylum and go back to his law practice. Frank and Annie had three children:
Grady Carl m. Bettie. In the 1930 census, there is a Grady T. Carl, age 31 who was married to an Elizabeth C. Carl. They lived in Edinburg, Texas. An article on his father's insanity trial in February 1925 noted that ńafter the trial was over, his son, Grady, went to him and plead for recognition. 'I am Grady, don't you remember me?' 'Grady,' the man replied. I remember Grady. How are you getting along.' But the look in his eyes never changed as he said it. The son turned away disappointed.' According to the SSDI, there was a Grady Carl who was born on 4 Apr 1898, issued a Social Security card in Texas and who died in Jan 1966. The Texas death index lists his name as Thomas Grady Carl who died single on 21 Jan 1966 in Harris County.
Alma Carl m. William D. McFarlane of Graham, Texas. The announcement of their wedding noted that two of the attendants were Winnie Carl (Dave and Lucy Bonner Carl's daughter), and Mrs. Floyd Forrest (formerly Agnes 'Aggie' Carl, Newt and Marcia Bonner Carl's daughter). Mrs. Carl J. Gildemeister, Alma's sister, was the matron of honor. Two of the groomsmen were Carl J. Gildemeister and T. George Carl. According to the 1930 census, Mr. McFarlane was an attorney (like his father-in-law) and a veteran of WWI. They had two children, Mary and Billie. According to the SSDI, there was an Alma R. McFarlane who was born on 1 Dec 1899, issued her Social Security card in Texas and who died 15 Jul 1966 in Washington, DC.
PICTURE OF 'BILL' GILDEMEISTER
Annie E. "Bill" Carl, b.1 Jan 1904, m. Carl J. Gildemeister, b. 21 Jan 1899, a jeweler in San Antonio. They had two daughters. According to one of Bill's cousins, "Bill was one of the world's most delightful people you'd ever care to meet; charming, stylish, yet as down to earth as you could get. Bill loved to talk (she was a Carl) and loved to pad around her house barefoot (she was a Carl). Carl owned an airplane and loved to fly as often as possible." (It's a little confusing to have her last name be the same as her husband's first name, but it's strange having a girl nicknamed Bill too!) Annie Gildemeister died on 11 Jan 1975 and Carl Gildemeister on 11 Feb 1988.
PICTURE OF DAVE CARL AND OF ED, DAVE AND TOM CARL, WIVES AND SISTER ELLA

The group photo shows front row left to right: Ed Carl, Dave Carl and Tom Carl holding his first child, Elsie. Standing: Ella Carl, Lucy Bonner Carl, Dave's wife and Eva Carl, Tom's wife. The photo was taken around 1903.

David Hervey [not Harvey] Carl was born on 18 Aug 1875 near Maysville in Benton County, Arkansas. He was an experienced oil well driller and made a lot of money in the development of the huge oil field near Burkburnett in North Texas. His partners in that endeavor were Will Posey, the brother of Euna Posey Carl, Ed's wife, and Demps Bonner, his wife Lucy's brother. After his success in Burkburnett, in 1921 he moved to San Antonio and went into business with his brother Ed working the oil lease owned by their brother Frank, as well as other leases in several areas of South Texas. Dave, or D.H. also had a farm near Divine, Texas and was living there when his brother, Ed died in 1956. Dave made enough money to buy his parents a home in the Beacon Hill section of San Antonio when they moved from Austin in the last year of John Carl's life. The house was within a few blocks of where Dave's brother Frank and his wife Annie Carl lived. According to the 1930 census, Dave was 25 when he married Lucy Bonner [not Bouner] who was 19. She was the sister of Marcia Bonner, Newt Carl's wife. Her parents were John C. and Laura McKinney Bonner. The census listed her father as being from Mississippi and her mother from Missouri. In later years Fred Carl remembered his Aunt Lucy as being a happy person who laughed a lot.
PICTURE OF DAVE, LUCY, BONNER CARL, WIDEMANS AND OTHERS

The picture shows from left to right: Annie Wideman, George Wideman, Lucy Carl, Bonner Carl, in front of him Ellen Wideman, Ed Carl, Sr., Ella Wideman, behind her Minnie Carl, Dave Carl and in front ot them, J.W. Carl and Mary Carl.

Another of Dave's nephews related this story: "Uncle Dave was the rascal of the uncles. Frequently mischievous and sometimes mean spirited. One day in 1964, I was astonished to see his picture on the front page of the Beaumont Jefferson Pilot newspaper. At 92, he made his first flight on an airplane (Trans Texas Airlines) from San Antonio to Beaumont to visit Winnie and Earl --and making a pass at the stewardess on the way. Dad mentioned a couple of serious fights between Uncle Dave and some other men when he was young." Dave died in Hondo, Medina County, Texas on 29 Jan 1967 and was listed in the Texas death index as a widower. He and Lucy had three children:
Winnie Carl was listed as being 14 in the 1920 census. She was one of the charter officers of the first San Antonio assembly of the Order of the Rainbow for Girls in 1922. She married a Mr. Sullivan. His first name might have been Earl, like her brother. A Winnie Sullivan got a Masters Degree in Education in 1952; an Earl Sullivan Sr. and Jr. attended the ceremony.
Bonner D. Carl was listed as being 21 in the 1930 census. (The census index mistranscribed his name as Bonnie.) According to the SSDI, there was a David Carl who was born on 21 Oct 1908, which would fit the census data, and died in Apr 1971 in Hondo, Medina County, Texas. It would make sense the ļD' in his name would stand for David, his father's name. His residence was in the same zip code as David Hervey Carl. The Texas death index lists a David B. Carl who died single on 26 Apr 1971 in Bexar County, which is just east of Medina. I have a file note that suggests Bonner's wife's name was Hortense and there was a Hortense Carl listed in the SSDI who was born 16 Nov 1909 and died in April 1981. The Texas death index lists her name as Hortense Lucia Carl with a death date of 1 Apr 1981.
PICTURE OF EARL AND HONEY CARL AND TOMMY AND BETHEL CARL
Earl Carl was listed as being 17 in the 1930 census and the proprietor of a filling station. His wife's name was Thelma. We have a picture of Earl and 'Honey.' That is probably Thelma's nickname. There is an Earl David Carl in the Texas death index who died in Hardin County on 18 Mar 1998. It is unusual but not impossible for both sons to have been given David as a middle name. In the SSDI, he was listed as Earl Carl, born 17 Feb 1913, which fits his age in the census, and died on 18 Mar 1998 in Silsbee which is in Hardin County. Tommy Carl noted in a letter that Earl lived in Silsbee. A Thelma L. Carl, born 30 Mar 1913, died in Silsbee on 9 Jun 1997.
PICTURE OF DEN CARL, DEN CARL AT DAVE'S RANCH, CARL GROUP INCLUDING 'BIG BLANCH,' DEN'S WIFE
The group picture shows from left to right: Dave Carl, Mary Carl, J.W. Carl, Minnie Carl, Ed Carl, Sr. Back row: 'Big Blanche' Carl - Den's wife, and Lucy Bonner Carl, Dave's wife.

Henry Samuel "Den" Carl was born on 30 July 1877 near Maysville in Benton County, Arkansas. According to the 1930 census, he was 33 when he married Blanche, who was 22. (The Social Security Death index listed a Blanche Carl who was born on 19 Dec 1887, which fits the census information.) She was called "Big Blanche" to distinguish her from Loney's wife, "Little Blanche." In the census, Blanche's father was listed as being from Tennessee and her mother from Texas. Den and Blanche had no children. He was a plumber in Dallas where he died on 15 Apr 1966. (The Texas death index lists a Den Carl as dying single on 6 Apr 1966 in Dallas County.) One of his nephews said, "Every time Uncle Den and Aunt Blanche came to visit, he managed to work the conversation around to a lecture on how to wipe-in a lead joint (joining cast iron sewer pipe sections together.) and stuff it with oakum (a fibrous organic material to stabilize the molten lead until it solidified). He was a kindly man who always bought me some small toy or ice cream." Blanche K. Carl died on 15 Dec 1973 in San Antonio and was buried in Grove Hill Memorial Park. Her death notice listed these nieces and nephews but it's unclear which are her relatives and which are her husband's: Mrs. Frances L. Grant, San Antonio; Mrs. Minnie Mae Pritcherd, Irving; Mrs. Marcelle Johnson, Los Angeles; Mrs. Mildred Tankersley, Odessa; Mrs. Barbara Kurkendall, Odessa; Mrs. Geneva Hicks, Orange; Mrs. Billie M. Palvas, Bryan; Mrs. Maxine Durham, Texarkana; Mrs. Marie Lovelace, Dallas; Willie H. Massey, Galveston; Les L. Carl, Dallas; Roy Massey, Orange; Jimmie Massey, Bryan. With all the Massey nephews, Blanche's maiden name might have been Massey, but the K. in her name might also have stood for Kurkendall, one of her niece's last name. The Les. L. Carl is probably Lee Carl, Loney's son who lived in Dallas though I thought his first name was Loney like his father's but it appears to have been Liberty Lee. Den supposedly left Lee an inheritance when he died. The Marie Lovelace is the married name of Marie Carl, Lee's sister. She married first a Homer Charles Chapman and had a son, Ray. After Homer's death Marie married Chester Lovelace. Mrs. Geneva Hicks might be the married name of Geneva Carl, Newt's daughter. There is a female Billie in the family, but she was married to Carl Gildemeister so the Billie M. Palvas might be the husband's name. There is a Blanche Carl listed in the Texas death index as dying widowed on 12 Dec 1973 in Kendall County.
PICTURE OF ELLA CARL AND OF THE WIDEMANS AND GILDEMEISTERS

The group picture is from one of the times the Widemans and the Gildemeisters came to visit. Because Ella Carl married George Wideman, whose sister Annie married J. F. Carl and had a
daughter 'Bill' who married Carl Gildemeisters, the two families were closely entertwined. In the middle row from the left are Mary Carl, her sister Mittie Von Fintel, Ella Wideman - arm linked to Bill Gildemeister and Minnie Carl. The girl kneeling in front is Annie Wideman, to the left of her is J.W. Carl, the child behind J.W. is, perhaps, Ellen Wideman. The man with the mustache in the back row is Carl Gildemeister. The person behind Ella may be George Wideman. The couple behind Mary and Mittie are unidentified.

Sarah Ellen "Ella" Carl was born on 14 March 1879 in Bentonville, Benton County, Arkansas. In a letter to Ella from her brother, Newt dated 4 Sept 1952, he said he remembered when she was born. "We were living at the home of Grandfather and Grandmother Swank one mile south of Bentonville. You came a little while before Grandfather Swank, Uncle Al, Uncle Dave and our precious Father left with the gold rush for Ledville, Colorado." On 12 March 1905 in Muskogee, Oklahoma, Ella married George Wideman, b. 10 March 1867 in Alabama, the brother of Annie Wideman, Frank Carl's wife. According to one of Ella's nephews, "Uncle George was a union organizer and retired at a very early age while Aunt Ella sewed clothing for the insane asylum in San Antonio until arthritis got to her fingers (or she got tired of working to support George)'. According to Fred Carl, Tom's son, George Wideman was a Yankee (odd for someone born in Alabama) and John Carl, George's father-in-law, was a Confederate which meant they fought the Civil War every day! Ella was Mary and John's only daughter. Unlike her mother, Ella was a large woman, according to one of her nephews. She died in 1970. The SSDI listed her death as 15 July 1970 in San Antonio; the Texas Death Index said 24 July 1970. Ella and George had eight children, five of whom lived to adulthood:
Carl Wideman, b. 7 Oct 1906, tried to operate a lumber yard and a trucking business but neither endeavor was successful. In another bit of bad luck, in 1951 his truck turned over, crushing his left knee so badly doctors in Lexington, VA had to amputate. Carl had two sons.
George "Bud" Wideman. The SSDI and Texas death index list a George Leonard Wideman as being born on 26 April 1908. Mary Carl's death notice listed as a survivor ńMajor George L. Wideman, formerly of the District Attorney's office in Edinburg.ī George served for many years as a Justice of the Peace and lived in Somerset. His wife's name was Mildred. The death indexes said George died in Somerset on 3 Jan 1979. A Mildred Wideman died on 29 July 1971 in Bexar County.
C. N. (Charles Newton) Wideman, b. 20 Feb 1910, became a successful home builder in San Antonio. He married Howard (yes, a woman named Howard) Louise Abbey who was born 26 Nov 1912 and died in San Antonio 30 June 1983. C.N. died in San Antonio on 10 Oct 1997. They had six children, Charles Abbey, Ann Louise, Jack Howard, Barbara Jane, an unnamed stillborn infant, Linda Ellen and Ned Newton.

Oscar Wideman b. 16 June 1912 in San Antonio, Bexar, TX.; died 2 December 1913 in San Antonio, Bexar, TX; buried ca. 5 December 1913 in San Antonio, Bexar, TX
Annie Wideman m. Martin Rinehard, a sales representative for Devoe Paints. According to one of Ella's nephews, "A fascinating point about the J.F./Annie Wideman: Ella/George Wideman relationship occurred to me. I realized a unique similarity among the next generation: 'Bill' Carl Gildemeister and Ann Wideman Rinehard. Ann was a miniature, dark-haired picture of her cousin 'Bill', their voices were so similar and their personalities also. Ann was the vivacious, charming member of Ella's children. She was likewise the active talker." Her obituary said, "Ann Reinhard went to be with the Lord on June 17, 2009. Ann was born December 25, 1916 to George F. Wideman & Sara Ellen (Carl) Wideman. Ann was a 50 year member of the Daughters of the Nile and Auxiliary #70 of the Fraternal Order of the Eagles. She was a charter member and Past State Madam President and S.W. Regional President of the auxiliary. She was preceded in death by her husband Martin F. Reinhard; her five brothers and two sisters and one granddaughter, Kari Klein. Survivors include daughters Betty Klein and Peggy Hinson and son-in-law Charles Klein; grandchildren Cindy & Gary Hunter, Carol & Andy Bryant, Patricia & Richard Smith and Robert Hinson; great grandchildren Cassandra & Gary Hunter Jr., Tasha & Tyler Smith and Tabitha and William Bryant; numerous nieces, nephews; and other relatives and friends." She was buried at Sunset Memorial Park in San Antonio. Martin F. Reinhard was listed in the SSDI as being born on 16 Nov 1918 and dying in Bexar Co, 5 Jul 1991. The Texas birth index notes that Annie Betty Wideman and Martin Frank Reinhard had two daughters, Betty Ann Reinhard b. 15 Dec 1940 and Peggy Lou Reinhard, b. 27 Sep 1946.

John Wideman born 10 March 1915 in San Antonio, Bexar, TX; died ca. 4 June 1917; buried ca. 6 June 1917
Sarah Ellen Wideman, b. 1 Mar 1919 married Ben Utz and had two sons. At the time of her mother's death in 1970, she lived in San Antonio.
Harriet Elizabeth Wideman born 14 October 1924 in Somerset, Bexar, TX; Died 14 October 1924 in Somerset, Bexar, TX; buried ca. 16 October 1924 in Somerset, Bexar, TX
PICTURE OF ED CARL SR. AND PICTURES OF HIM AS A YOUNG MAN ON CHAIR AND WITH HAT AND ED AND EUNA'S WEDDING PICTURE
The picture of Ed Carl sitting on the chair was dated 13 Dec 1899, just before his 18th birthday.


Edward Miller Carl was born on 25 December 1881 near Cherokee City, in Benton County, Arkansas. He had his father's gray eyes. In 1885, while on the trip through Texas with his family, he slipped on ice and broke his leg. (Another version of the story has him breaking his leg stepping in a hole while playing 'base,' some kind of tag. As we all know, family stories can differ but it might have been that Ed slipped on a hole in the ice while playing tag.) The only physician available was a railroad doctor who set his leg improperly and as he grew to maturity that leg was shorter than the other. But even with his disability he was obviously able to work and wearing a built up shoe, his cousin Bryan said he didn't even limp. To show how people's memories can trick them, Bryan also said he was a big man, 5 feet 11 inches tall and probably weighed 220 pounds, but Ed's driver's license (and his son agrees) he was 5 feet 8 inches tall and weighed 188 pounds. Ed entered the oil business as a young man, participating in the early day operations at Corsicana, Spindletop, Humble and Sour Lake. He met Euna Ellerfair Posey when he was working on the oil wells on his brother Tom's farm. Euna's brother Will Posey was a partner of Ed's brother Dave Carl in the oil business. Euna was born on 2 July 1888 in Rural Shade, a farming community southeast of Corsicana in Navarro County, Texas. Her parents were Lonnie and Margaret Frances Elizabeth Martin. Her father, a farmer, died when she was young and her mother remarried. She had a brother, William Posey and a half-sister, Mattie McDonald (Justice). According to family lore, she was the most beautiful woman in the area. One of Ed's nephews said not only was she beautiful, but she dressed well, smelled good, laughed and smiled all the time and had a wonderful personality. Ed and Euna were married in Houston in 1906. In 1945, he filled out an application for a civil service job and gave an overview of his life. He checked that he had had 12 years of formal schooling, but his son says that is not true, that he only got through the 8th grade. On the application he said he did oil field work from June 1903 to September 1909 when he became owner of a grocery story in Corsicana. In 1913 he took the civil service exam and got a job in the post office. He started as a substitute clerk at 50¢ an hour then in Mar 1914 he was promoted to regular clerk at $800 a year. He got a pay raise every year and had he not quit, he would have been making $1400 a year as of July 1919. We have a copy of his Statement of Case Examination for the United States Post Office in Corsicana. He handled 1000 cards with only 5 misthrown, 99 1/2 % correct, in 31 minutes - 'a very fine showing' was noted in the remarks. He worked in the post office into May 1919.
PICTURE OF ED CARL SR'S FAMILY BEFORE THE DIVORCE

The picture is of Ed and Euna Carl with their children Eddie and Minnie. The picture was made at The Elliotts studio in Austin and had to have been taken not long before the divorce in 1919.

In April 1919 their lives changed. There are two versions of the story. According to Fred Carl, Ed got ill, came home early from work, found Euna in bed with another man, immediately took the children and went to live with his brother Tom. Her version of the story appears in the divorce petition she filed in which she accused her husband of the grossest cruelty and neglect. (Perhaps because of his ill treatment she became involved with another man.) According to her son, Euna was an excellent seamstress and loved pretty, expensive clothes. Ed Jr.'s cousins remembered her as being very kind, never scolding, always smelling good, having a sweet smile and being attractive to other men. Euna was granted a divorce, but Ed got the children, both of which were unusual occurrences in those days. After living with his brother for a while, Ed took the children and moved to San Antonio and rented a house to be within walking distance of the Prospect Hill Methodist Church where his elder brother, Newt, was pastor. At this time Ed Sr's parents moved from Austin to live with him and his two children. Ed's brother Dave bought a home for his parents on the other side of San Antonio, so Mary and John moved there and Ed and his two children moved in with them. In December of that year his father, John H. died and his mother, Mary Elizabeth took over running the household and raising the children. 1919 must have been a hard year for the family. Not only did Ed and Euna divorce, and Ed's father die, Ed's youngest brother and Euna's mother also died. 1919 was the year of the terrible flu epidemic after World War I, but whether that contributed to any of the deaths is unknown. From 1919 to 1940 Ed worked as a drilling contractor in several areas of South Texas until it became unprofitable. For the first ten years he worked with his brother Dave and for the second ten, on his own. From March to December 1940, he sold real estate with his nephew, C. N. Wideman. In May 1939, he petitioned to get himself reinstated into the Civil Service with the hope of getting another post office job. He received a letter from the Office of the Quartermaster at Fort Sam Houston, dated 27 Aug 1941 telling him he had been selected for the position of Under Clerk Typist starting 2 Sept 1941. According to his son, Wm. Paul, his father took the job but Ed's large fingers made typing difficult so he lost it. In August 1942 he received a 'recommendation' letter from the San Antonio Machine & Supply Company saying he had been a good customer of theirs for 15 years and that he'd always paid promptly. He also had a similar letter from the Alamo Iron Works saying he'd been a valued customer for over 20 years and had always kept his promises and conducted himself in a business-like manner. Again according to his son, Ed went to work for Alamo but the concrete floors at the iron works were too much for his feet so he quit that job as well.
PICTURES OF EDDIE AND MINNIE AS CHILDREN AND ADULTS: WITH BOWS, ED JR. IN KNICKERS, AS YOUNG ADULTS, AT A&M YOUNG. A&M WITH HAT, A&M OLDER
In the first picture, Minnie and Ed Carl are in Corsicana, looking cute in their bows, but not
very happy! Their mother Euna was an excellent seamstress and probably made their outfits.

In the next picture, Eddie Carl is on the right, looking happier, in a tussle with his good friend, B. W. Vining, Jr., the son of the pastor of Collins Street Baptist Church in Corsicana. Eddie said, "We were inseparable."

Minnie and Ed Carl as young adults. The picture was taken at Studers in San Antonio.



Ed and Euna had two children.
** Edward Miller Carl, Jr., called Eddie by his family, was born on 15 May 1909 near Pettys Chapel, east of Corsicana, Texas. One of his cousins remembered Eddie's fondness for pulling jokes on people and that he didn't like to get up in the morning and wouldn't talk much until noon. Another cousin, Fred Carl, remembered before the divorce when Eddie and his family would come to dinner with Fred's father Tom and his family. Ed, Sr. had a beautiful white horse and a 'sport buggy' that had rubber tires and red spokes, a very flashy vehicle for the day. He remembered Eddie being very quiet, not showing much enthusiasm for the activities of the other kids. After his parent's divorce, he moved with his father and sister to San Antonio. They first lived in a house near his uncle Newt's church on the south side, then moved to a home on the north side with his grandparents. In a letter my father wrote to distant cousin/genealogist Rea Jameson in 1979, he said, "As a boy in San Antonio, I rode my bicycle several miles each Sunday to attend Sunday School and Church at the Laurel Heights Methodist Church. There was a Northern Methodist Church only a few blocks from my home, but I had been so well indoctrinated by my Grandmother Carl that I thought the congregation to be a group of foreigners." The Civil War was over, but its effects were still being felt. He attended the Beacon Hill elementary school, and graduated from Old Main Avenue High School in 1926. He attended Texas A&M and graduated with a BS degree in Electrical Engineering and a 2nd lieutenant's Army reserve commission in 1931 at the depth of the Great Depression. That same year, he wrote his father a letter thanking him for all he had done to help him over the years and, obviously in response to something his father had said, saying there was a time he felt the need for a mother, but that 'having a good father has made life just about as pleasant without a mother as with one.' In later years, he seems to have changed his mind saying about the divorce, he and his sister 'became increasingly aware of what it had denied us of family unity and love.' Since Miss Minnie, his stepmother, was only 7 years older than he, she had not been able to fill that role for him.
After graduation he found work where he could, on an oil tanker, as a night-operator at a filling station, a clerk in a grocery store and manager of a farm. He had maintained his status as a Reserve Officer and in the fall of 1936, he was ordered to report for duty with a company of the Civilian Conservation Corps. During this time he developed pneumonia and tuberculosis, was given medical leave and spent several years off and on in Army Tubercular Hospitals. He had met Mercy Annabella Ramsey in 1929 when she and a friend came to College Station for the annual Thanksgiving football game between the University of Texas and Texas A&M. He had corresponded with her over the years and even with his medical problems, they fell in love and married on 12 June 1940. Mercy Ramsey was born on 22 Nov 1911 in Austin, Texas, the daughter of John Murray and Mercy Perkins Ramsey, long-time Austin residents and owners of Ramsey's Austin Nursery. She graduated from UT in 1932 and taught school in the Austin ISD for 23 years. She was also an active member of the Austin community, participating and holding office in many clubs and organizations. In 1941, Ed joined the Texas Highway Department and worked there for thirty two years during which time he was Senior Resident Engineer in charge of several highway projects and was eventually placed in charge of the Department's Highway Illumination and Research division and later the formation of the Department's first Archeology section. In 1971 he was appointed to the National Cooperative Highway Research Program advisory panel of the National Academy of Sciences because of his work on high level lighting. He was very proud of that honor.
PICTURES OF ED AND MERCY CARL'S WEDDING, FOUR GENERATIONS WITH MADELINE, WITH CATHERINE, FAMILY GROUP IN1960 AND IN 1982
The pictures: 1. Ed Carl, Jr. and Mercy Ramsey married on 12 Jun 1940. 2. Four generations of Carls - Mary, Ed, Sr. holding Madeline born in 1944 and Ed, Jr. 3. Ed and Mercy Carl had two more daughters, Catherine, right rear, born in 1945 and Charlotte in 1950. 4. Ed's family in 1960 and 5. Ed and Mercy Carl in 1982.


In 1972 his health worsened and he had to retire, but he spent a lot of time doing genealogical research on his family. It is that research that was the starting point of this history. Over the years he too had been active in the Austin community, serving as scoutmaster for a boy scout troop. He was a Mason and member of the local Scottish Rite Consistory and Ben Hur Shrine Temple. He as also active with Mercy in the Order of the Eastern Star serving as Worthy Patron of Austin Chapter #304 in 1966-67, 1973-74 and 1980-81. Ed and Mercy had three daughters, Madeline, Catherine and me, and five grandchildren. He was reportedly quite a jokester when he was young, but I remember his keen intelligence, his ability with languages, (he spoke Spanish and German), his quiet sense of humor and the twinkle in his eyes when he said something funny. He wasn't perfect, no one is. Too often he tried to treat his depression with beer and he wasn't always as sensitive to his wife as he could have been. But overall he was kind and generous to all he met and the overflow crowd at his funeral attested to the high regard in which he was held. He died on 27 January 1987 in Austin.
A GATHERING OF CARLS AFTER ED CARL'S FUNERAL
The picture is of a gathering of Carls after Ed Carl's funeral on 30 Jan 1987. From left to right front row: Mercy Ramsey Carl, Barbara Carl Edens, Margery Jones Carl, Minnie Carl Ray, Melissa Carl, Bud Carl, Nathalie Carl. back row: Wm Paul Carl, Michael Carl, Janice Carl Halfrich, Elaine Carl Green.


Mercy also had a great sense of humor and loved to laugh. She was kind and thoughtful and always rooted for the underdog. She had a high regard for education and was methodical and well-organized, even if her house and kitchen table didn't look it! She died on 30 June 1996 in Austin. Ed's death certificate gave the cause of death as cardiac arrhythmia, coronary artery disease, and atherosclerosis or hardening of the arteries with other contributing factors of chronic lung disease, thoracoplasty and cirrhosis liver. According to a medical web site, thoracoplasty refers to the surgical removal of several rib bones from the chest wall in order to collapse a lung. At one time this surgery was commonplace for the treatment of TB, but it fell out of favor when the idea of cutting out the diseased part of the lung was proposed, and the treatment became obsolete in Canada, at least, by the start of the 1960s. Unfortunately, the doctors at the VA hospital in Temple were still doing the mutilating surgery in the early 1970s when Ed Carl was 'treated' there. Ed and Mercy are buried in the Austin Memorial Park cemetery.
MINNIE CARL AT 18, PHOTO OF MINNIE CARL FISCHER USED IN 1929 A&M YEARBOOK, THE RAY FAMILY
[Editor's note - I've always thought I look very much like Minnie Carl, especially when we were both children and young adults. There are some pictures of her in groups that even I at first mistake as being me!]


Minnie Elizabeth Carl was born in Corsicana, Texas on 7 Dec 1910. Her cousin, Fred remembered her being quiet, like her brother, but that Minnie would stay very close to her mother whenever the family came to Sunday dinner at Fred's house. Being as close to her mother as she was, her parent's divorce must have hit her very hard. With her father and brother, she moved to San Antonio in 1919. By the time she had finished grade school, a junior high school had been completed in the North San Antonio area and she attended there prior to entering Main Avenue High School. She was in the National Honor Society, was a ROTC sponsor and involved in other activities. Later, in 1928, she married a high school acquaintance named Harry who was then a junior engineering student at Texas A&M. Minnie and her husband later divorced and she moved back home. Eventually she enrolled in Westmoorland college, a local Methodist school for young women, where she completed two years of college work prior to her second marriage to John A. Ray in 1938. She and her husband went to live in Dallas where their son, Allen Jr. was born. Several years later they adopted a daughter, Marsha. For many years, Minnie and her family lived in Dallas where she was involved in community work and John was a businessman. In the 1960s she went back to college and got a BA in Library Science at TWU. We called her 'Aunt Doody' to differentiate her from "Miss Minnie," her stepmother. I don't know where the Doody nickname came from. She died on 27 Nov 1990.
PICTURES OF ED SR. AND MINNIE IN 1921 OR 1922 AND ED SR. AND MINNIE ON PORCH
While working his brother Frank's oil lease in Somerset, south of San Antonio, Ed Carl, Sr. met Minnie Marian Fulkes, a niece of the landowner. According to Bryan Carl, she sang in the choir at church. And according to her son, she was a lovely young woman who had only had six years of formal schooling, came from a poor family and thought Ed was a prosperous business man who could rescue her from her circumstances and give her a good life. On 28 June 1922, Ed and Minnie were married by the pastor of the Alamo Methodist Church in Bexar County. She was 20 and he was 40. She moved into her mother-in-law Mary's home in San Antonio where her new husband and his two children from his previous marriage lived. Mary had run the household and raised the children since her husband's death in 1919. It was a difficult situation for a young woman to enter. As a young wife of an older man, she could have been perceived as a golddigger. She wasn't; she was an artistically talented person who wanted to have a happy life with her new husband. But there was a major obstacle - Mary. Her mother-in-law, who barely reached Minnie's shoulders in height, was a formidable woman who had raised eight children of her own and was raising Ed's older children. Minnie and Ed lived in her home and Mary ran the show. In the early days of Ed and Minnie's marriage, Ed was away working in the oil fields for long periods of time, leaving Minnie home alone with Mary. In July 1924, Mary was visiting another of her sons, Tom in Corsicana, when she wrote Ed a letter. Her spelling indicates she didn't have much schooling, common for women of her day, but she was able to get her points across. She said she was glad to hear he had a ļhous keeper, a companion you will be much happier some one to share your trouble & take a interest in you & yours & that you will quit worrieing over what might happen as I cannot believe that thare is aney dainger as she seams to be happie & in joying her self.ī It appears Ed was worried that, like his first, his second marriage would not succeed. Mary went on to say ńI hope that Miss Minnie will take holte & feel at home & not feel that every thing is not all right. I want her to feel free & content & if I never get back that every thing in my house is youres & the childrens.'
PICTURE OF ED AND MINNIE AND THEIR CHILDREN AND MARY IN 1920S
Mary did come back and lived with Ed and Minnie until ill health forced her to go to a nursing home. She died on 24 Apr 1949. She had been giving her son her $50 Confederate pension every month to help with the household expenses, but when she died those payments ceased. Ed had made a lot of money as an oil contractor, but lost most of it in the Depression. Ed and Minnie had two children, John Wesley Carl, born in 1926 and William Paul Carl, born in 1933. Ed's younger son remembers his father's daily routine. Every day Ed would get dressed in his suit, socks with garters, and hat and drive their 1934 Dodge downtown to the Gunter Hotel in San Antonio where he would hang out all day with his cronies from the Somerset oil patch days in an effort to get back into the oil business. Unfortunately, the business had changed from his wildcatter/roughneck days and he didn't have a place in the new, more technical field of oil drilling. After the death of his mother, Ed and Minnie had to move out of the house on Huisache that his brother Dave had purchased for his parents and after staying in what their son Wm. Paul called a 'glorified chicken coop,' they moved to Austin in 1951 so Paul could attend UT. Just like in the previous generation, Ed Sr's son and daughter bought him and Minnie a home, on Pasadena St. in Austin. Ed Sr. was unable to find work so Minnie had to take a job in a bakery to help support her family. She had never worked outside the home and it was very difficult for her in her late forties to enter what turned out to be a chaotic and what we'd probably call today, an abusive environment. At around this time, her other son, J.W. served in the navy during the Korean War. On 8 July 1956, Ed Sr. died from a stroke due to hypertension and was buried in the Capitol Memorial Park north of Austin. Mr. Carl had some quirks, one of which was that he would only eat off a white plate, another was that none of his food could be touching each other. He also refused to let his wife have any control or access to money; he would give her a household allowance weekly. He was seemingly not a very easy person to live with. His son, Wm. Paul remembers only one instance in his life in which his father acted like a 'dad.' During WWII, a captured Japanese Zero plane was put on display in San Antonio and Ed took Paul to see it. All the rest of Paul's life, his father was a distant, reserved figure. But Paul admits being the youngest son of an older father's second marriage puts him in an interesting position. He turns 70 this year and had a grandfather who fought in the Civil War - an amazing fact. Minnie later moved in with J.W.'s family in San Antonio and worked for several years in a bakery there. In living with her son, she repeated the pattern she herself had lived but now she was the mother-in-law who lived with her son and his wife and children. And like Mary, when Minnie's health worsened, she went into a nursing home but in Angleton to be near her other son. She died in Angleton on 19 Feb 1989 and is buried next to her husband in Austin.
PICTURE OF ED AND MINNIE AND THEIR CHILDREN IN 1930S
Ed Carl, Sr. and Minnie Fulkes Carl had two children:
John Wesley (J.W. or Jake) Carl was born in San Antonio, Texas on 19 Dec 1926. He inherited his mother's artistic ability and did some excellent drawings in high school. His nimble fingers also meant he was good in shop classes and had great handwriting. After Pearl Harbor, J.W., at the age of 17, volunteered and was assigned to the Navy for the duration of World War II. Later he was recalled for naval service in the Pacific during the Korean War. The harrowing experiences he suffered during the two wars affected him his entire life. He met Genevieve Hard at Trinity Methodist Church, up the street from his house on Huisache (corner of Grant and Huisache). He went there to play basketball on their court in the church basement. After J.W. got out of the Navy, he worked a while for the Texas Highway Department on a road crew. On the GI bill, he enrolled at St. Mary's University, aspiring to be a lawyer like so many others in his family, but he only did well in the subjects he liked, history and government, so he dropped out. On 26 June 1948, he and Genevieve married. He went to work for Maryland Casualty Company as a claims adjuster. After a while, he used his GI benefits to buy into a Humble gas station. It was about this time his first daughter was born and he decided, along with Ginny's sister and her husband, Virginia and Lucky Wyatt, to buy into a new Gulf station on Blanco Road close to Hildebrand. Unfortunately, the station failed and J.W. went to work for an insurance claims agency in Austin for a year or so. For a while, they lived in San Benito, then moved back to San Antonio and he started working for USAA. He and Ginny eventually had four daughters, Janice, Elaine, Barbara and Bonnie. Ginny was a light-hearted and sensitive woman who had a wonderful smile. She was very talented musically, played the organ and piano at church and also accompanied her children when they sang. In addition, she had perfect pitch and could identify a note played on the piano even if she were on the other side of the house! She was also fond of using funny quips and puns. She was an affectionate mother who insisted on taking her daughters into her lap and giving them big hugs even when they were college age. After her sister's death, Ginny took in one of her nephews and he lived with them until her death. The family liked to camp and took their truck/camper on many trips to Port Aransas and Padre Island. Ginny liked that kind of camping - running water, air conditioning, all the comforts of home. Ginny died on 11 December 1976 in San Antonio. After Ginny's death, J.W. married Dee Mattar, but divorced her before his death in Houston on 20 April 1982. He is buried in Roselawn cemetery in San Antonio.
PICTURE OF J.W. AND GENEVIEVE'S WEDDING AND THEIR FAMILY IN 1960; PICTURE OF Wm PAUL AND MARGERY'S WEDDING AND THEIR FAMILY IN 1977
Picture of Genevieve and J.W. Carl's wedding party on 26 Jun 1948. From left to right: Bill Word, Chester A. Hard, Joseph W. "Lucky' Wyatt, Mrs. Virginia Wyatt, Genevieve Hard Carl, John W. Carl, Ed M.Carl, Jr., Jorene Smith, Jom Boyd. J.W. and Ginny and daughters - front row Barbara, Janice and Bonnie; back row - Elaine. Wm Paul and Margery and their children - Michael and Melissa.

William Paul Carl was born in San Antonio, Texas on 7 Dec 1933. He and his brother and parents lived in his grandmother Carl's house until her death. At that point they moved into much more humble lodgings. In 1951, Paul and his parents moved to Austin so he could attend the University of Texas. He worked his way through school in an oil-reclaiming plant. He graduated from UT in 1955 with a business degree and went to work for the Texas Bank and Trust Co. in Dallas where he met his future wife, Margery Jones whom he married on 9 March 1956. At about the same time he was drafted and assigned to the Navy. After graduating from Naval Supply Corps School in Athens, Georgia, he was assigned to the Intrepid. He reported to the ship in New York and he and his wife lived on Long Island and later in Norfolk, Virginia. He came out of the Navy as Lt. J.G. He had always been interested in chemistry and went back to school earning both a BS and a Masters in the subject. He worked for DuPont in Nederland and in 1965 he moved to Angleton where he went to work for Dow Chemical Company. He retired in 1992 and, when he and his wife aren't visiting their children and grandchildren, he writes fiction. In his inimitable style, he says, "I will flout modesty and add details to my professional bio. I was principal inventor (means I did the major part of laboratory work) on twenty nine patents for polymer rheology analytical devices, polymer chemistry developments, polymer film preparation methods and applications. Your CDs are probably made with a plastic developed on the basis of one of my patents." He and Margery have a son, Michael who was born in Norfolk in 1958 and a daughter, Melissa born in 1965 and four grandsons.
PICTURES OF LONEY LEE CARL AS A CHILD AND ADULT
Loney Lee Carl was born on 16 Sept 1884 near Maysville, in Benton County, Arkansas. He chose his own name, having been called Son until then. (His name was pronounced Lone - y with a long o as it was spelled as opposed to Lawn-ney.) He married Blanche Gertrude Morris also from Arkansas, who was called "Little Blanche" to distinguish her from Den's wife, "Big Blanche." Her first name seems to have been spelled two ways, with or without the last e. There's a listing for a Loney L. Carl in the 1915 Dallas Texas City Directory which said he was a clerk. His death notice said "before going to Burkburnett he had lived in Dallas where he was with a big mercantile establishment but went to the oil fields to seek work in the open, because indoor work did not agree with him. For two or three years, some years ago, [he] lived in Corsicana and was in the oil field while there." He worked for his brother Tom in the Burkburnett oil fields. His 12 Sept 1918 WWI draft registration card said he lived in Burkburnett, Wichita, Tx with his wife Blanche Carl. He was an oil worker for the Burk Drilling Co. He was tall, medium build with blue eyes and black hair. Loney died on 12 Feb 1919 at the age of 34 from what family lore said was 'contagious infection.' 1919 was the year of the terrible flu epidemic after WWI so that might have been what caused his death. His death notice said he died of meningitis. He was buried on 14 Feb 1919 at the Riverside Cemetery in Wichita Falls, Wichita County, Tx, Plot: Block J, lot 53, sp 1. He and Blanche had three children, Marie, Lee and Eugene. On Liberty Lee Carl's birth certificate, Loney's name was spelled Lonnie Lee Carl. He was 29, born in Bentonville, Ark and was a shipping clerk. The mother was Blanche Morris, 19, born in Little Rock, Arkansas. On Eugene Watsen (sic) Carl's birth certificate, dated 1 Apr 1918, his father, L. L. Carl was a clerk in a furniture store in Dallas.


After Loney's death, Blanche moved to the Waco area. According to the 1920 US census for Ennis, Texas, Blanche Carl was a foster daughter living in the household of Herbert and Kate Hawkins with her three children. In the 1900 census, Blanche was three years old and living with her parents, Ed H and Fronea Morris but by the 1910 census she was 14 and living with Herbert and Kate Hawkins, the same family she would be living with in 1920. It's not known what happened to her parents, whether they both died or she left the family. Between 1910 and 1920, she had married Loney, had three children and become a widow. Blanch married Robert Macon and had another child, Howard. He was born on 28 Sept 1921 so Blanch and Robert probably married in 1920 or early 1921, just a few years after Loney's death in 1919. On Howard's birth certificate his mother is listed as Blanch Morris so for this document she used her maiden name not her first married one. Upon her death, Robert reached out to the Carl family to take her first 3 children because he could not care for them as well as his and Blanche's son. According to Becky Chapman, Marie's daughter-in-law, Marie was around 10 when she was put in the orphanage. Blanch's death certificate said she died on 22 Jul 1926. That would have made Marie 12 going on 13. The certificate said Blanch died of mitral stenosis. That is a disorder in which the mitral valve does not fully open. This restricts the flow of blood. In adults, mitral stenosis occurs most often in people who have had rheumatic fever. This is a disease that can develop after an illness with strep throat that was not properly treated.

One family story was that the three children were raised for eight years by Tom Carl and his family. But Tom's wife, Eva became ill with a scalp disease and, having four children of her own born between 1903 and 1910, could no longer care for the extra children. Their grandmother, Mary Carl, with the help of her Methodist minister son Newt, put them in the Methodist orphanage in Waco. They were never adopted. They spoke kindly of Den and his wife Blanche and had a relationship with them. Since Den and Blanche didn't have any children, one has to wonder why they didn't take Loney's children. The other Carl brothers and sisters had familes ranging from three to 10 children. It's understandable why they couldn't take the siblings, but why didn't Den and Blanche take them when Mr. Macon gave them up?


Marie Carl was born on 7 Nov 1913, lost her father in 1919 and her mother in 1926 and was put in an orphanage. She would have been 12 going on 13. The family story was that she and her brothers lived with Tom and Eva Carl for some time, but for how long is unclear. But there was some relationship between Marie and her Carl relatives. She was mentioned as serving at a party in Corsicana in 1934 for a relative of Eva Blankinship Carl, Tom's wife. She was also mentioned in a 1933 Corsicana article as winning a prize at a fair. Marie married Homer Charles Chapman, a friend of Lee's, in Dallas. Raymond Lee (Ray) was their only child, born August 14, 1939. When Ray was about to begin first grade, they moved to Greenville, TX where Homer's mother, step-father and brother lived and remained there until Homer died when Ray was a senior in high school. Marie then married Chester Lovelace and lived in Dallas until they retired to Jefferson, TX. Upon his death in Jefferson, Tx, she returned to Dallas and lived with Lee and his wife, Vonnie. Marie died in 1993.

Liberty Lee Carl was born on 2 Dec 1915 in Dallas County. Lee lived in Dallas and worked at one time for Dallas Power & Light, according to Fred Carl who also lived in Dallas. According to Becky Chapman, Lee served in the Army. He was married twice. In the 1940 US census, Lee, 25 is listed as living with his wife, Pearl Carl. That was a short WWII marriage. The 1952 city directory for Dallas lists Liberty L CarlÕs wife as Vonnie L and has him as a driver for Am Lndry. That might stand for American Laundry. Liberty Lee and Vonnie Lucille Carl are buried next to each other in Restland Memorial Park in Dallas. Photos of their stone are on Find-a-grave.

Eugene Watsen Carl, b. 1 Apr 1918, d. 17 Nov 2004. According to Bryan Carl, one of Loney's sons was a Ōhotshot fighter pilot in WWII.' According to the US Veterans Cemeteries List, a Eugene W. Carl, b. 1 Apr 1918, was a Maj in the US Army Air Forces in WWII. According to his enlistment records, he enlisted on 1 Oct 1941 at Fort Sam Houston. He was a private in the Branch Immaterial - Warrant Officers. HeÕd had 4 years of college and was an athletic instructor/director or skier. He was single with no dependents and was 71 inches (5 ft 9in) tall and 151 pounds. He was later in insurance in Dallas. The 1952 city directory for Dallas lists Eugene W Carl as an office manager for Tex Emp Ins. A Eugene W. Carl was a contributor to the Methodist ChildrenÕs Home. Gene was married twice. There is a marriage record that states a Eugene W. Carl married a Nona Gray on 15 Feb 1974 in Kaufman Co. He was 55, she was 37. According to Becky Chapman, Gene was indeed an ace pilot in WWII. He graduated from Baylor, had a masters degree from Texas Tech and a law degree from Texas or Baylor. One family story was that he married a friend's widow late in life. He died on 17 Nov 2004 and is buried at the Dallas - Ft. Worth National Cemetery, 2000 Mountain Creek Pkwy Dallas, TX 75211 at Section 14c Site 216.
According to the book Oak Hill Cedar Valley Pioneers, 'The Carl family was the average of good American people. Their faults were not of a vicious nature. Each of them were embued with outstanding individualism. A firm conviction abided in all, that each could take care of himself.' The history of my Swank and Carl families is a composite of the stories of all the individuals who were part of those families, with their triumphs and tragedies, joys and grief, good days and bad days. It's also one piece of the greater American history. Members of both families were around during every major event in the nation's history. People like to talk about the pioneer spirit. The people described in this article can truly be said to be such people. But we're all pioneers in our own day, making our way into the future. It would be interesting to know what our ancestors would say about today's world and their descendants who live in it.
If anyone has additions, corrections or comments about my article, please e-mail at ccm@tic.com.